Pro-government Syrian forces moved into the Kurdish-controlled enclave of Afrin on Tuesday despite warnings from Turkey, which halted the irregular troops' advance with artillery fire.
Convoys of pro-Syrian government militia members were seen in video passing a Kurdish YPG militia checkpoint into Afrin.
"The Syrian government has responded to the call of the duty and sent military units on this day ... to deploy along the border and take part in defending the unity of Syria's territory and borders," YPG spokesman Nouri Mahmoud said in a statement.
Read more: Turkey's military offensive against Kurdish-held Afrin: What you need to know
Rami Abdel Rahman, head of the Syrian Observatory for Human Rights, said hundreds of pro-Syrian government forces had entered Afrin.
The pro-government troops appeared to largely consist of National Defense Forces (NDF) units, a paramilitary militia organized by Iran's Islamic Revolutionary Guard Corps.
On Monday, state media and Kurdish sources said the two sides were negotiating for pro-regime troops to help defend against the Turkish military and its rebel allies.
Read more: Erdogan: Turkish army will besiege Afrin within days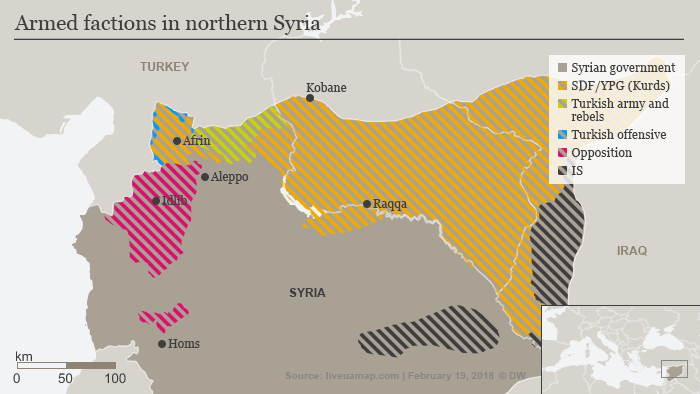 The troop movements raised the prospect of direct clashes between the Syrian regime and Turkey, which alongside rebel allies launched an offensive against the Kurdish-held enclave in northwestern Syria a month ago.
Turkish President Recep Tayyip Erdogan said artillery fire pushed back "Shiite militia" and "the case is closed for now."
However, it was unclear if the pro-Syrian government militia forces had fully pulled back. The YPG denied this.
Details of a deal between the Assad regime and Kurds are scant. Kurdish sources have said that any deal would be limited to pro-Syrian government forces moving into border areas, essentially acting as buffer to an expanded Turkish offensive in Afrin.
Read more: Who are the Kurds?
Any agreement between the Kurds and the Syrian government further complicates the multi-sided conflict in northern Syria involving Kurdish forces, the Syrian government, rebel factions, Turkey, the United States, Iran and Russia.
In a complicated web of rivalries and alliances, the deal in Afrin means that Iran-backed pro-regime militia are cooperating with US-backed Syrian Kurds against NATO member Turkey and its rebel allies.
Turkey has warned that it will hit back at pro-Syrian government forces if they moved into Afrin, which is controlled by the YPG militia. Ankara considers the YPG to be a terrorist organization tied to Kurdish rebels fighting a three-decade insurgency in Turkey.
Earlier on Tuesday, Erdogan said Russia had intervened to block Damascus from entering Afrin and that the Turkish military would quickly expand its assault on Afrin.
Russian Foreign Minister Sergei Lavrov urged Turkey to enter into direct negotiations with the Syrian regime, something that would be hard for Ankara to stomach.
"We recognize Turkey's concerns regarding the current situation in Syria, and we recognize the Kurds' aspirations," Lavrov said. "I am confident that Turkey's lawful interests of security provision can be implemented and satisfied through direct dialogue with Syria's government."
Read more: Syrian conflict: Where does the Assad regime stand on the Afrin offensive?
Iran and Russia are key backers of Syrian President Bashar Assad. Turkey has been one of the main backers of rebels seeking to oust Assad. But over the past two years, Ankara has focused on thwarting Syrian Kurdish gains and cooperated with Tehran and Moscow to try to end a civil war now in its seventh year.
The Syrian Kurds have had a tacit relationship with Damascus since it withdrew forces from parts of northern Syria in 2012 to focus on fighting rebels seeking to oust the Assad regime.
Further east, the YPG militia is a key component of the US-backed Syrian Democratic Forces, which controls around 25 percent of Syrian territory after pushing back the "Islamic State" (IS) over the past three years.
Washington's support of the SDF has been a major source of tensions between the United States and Turkey.
DW's editors send out a selection of the day's hard news and quality feature journalism. You can sign up to receive it directly here.