German writers and scholars Aleida and Jan Assmann are the latest recipients of the €25,000 ($29,500) Peace Prize of the German Book Trade, it was announced in Berlin on Tuesday.
A literary and cultural studies scholar, Aleida Assmann "has displayed an unfaltering commitment to investigating the virulent and perennial themes of historical amnesia and memory culture," said the peace prize jury in a statement. "Time and again, her work has illustrated that an open and honest handling of the past is an essential precondition for peaceful coexistence."
A recent publication in her large and celebrated body of work is the 2016 title, Shadows of Trauma. Memory and Politics of Postwar Identity.
Jan Assman, Aleida's husband, is meanwhile an Egyptologist and cultural studies scholar who has "launched international debates on fundamental questions relating to the cultural and religious conflicts of our time," the jury said of works including his seminal 1997 publication, Moses the Egyptian: The Memory of Egypt in Western Monotheism.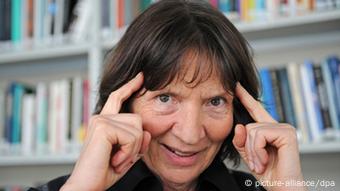 Aleida Assmann has devoted her life's work to promoting peace through historical memory
"His extensive scientific work has examined the relationship between religion and violence, the genesis of intolerance and the claim to absolute truth, all of which have made an indispensable contribution to our understanding of the willingness and capacity for peace held by religions in today's global society," the jury statement added.
The jury further commented on the couple's "exhilarating and mutually enhancing unity," throughout their scholarly collaborations, which was also recognized last year when Aleida and Jan Assmann together won the 2017 Balzan Prize for Collective Memory for their "shared, inter- and transdisciplinary elaboration of the concept of cultural memory." Other prizes the couple have won in unison include the 2017 Karl Jaspers Prize.
Read more: Nobel Prize in literature will not be awarded in 2018: Swedish Academy
'Peace, humanity and understanding'
The German Publishers and Booksellers Association has gifted the Peace Prize — which is comprised entirely of donations from booksellers and publishers — annually to those who uphold the German book trade's commitment "to peace, humanity and understanding among all peoples and nations of the world," while the winners "are chosen without any reference to their national, racial or religious background."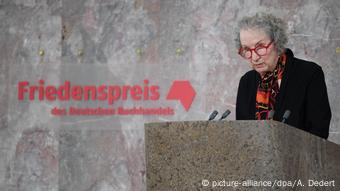 2017 Peace Prize winner Margaret Atwood speaks after accepting her award
In 2017, Canadian author Margaret Atwood, known for novels including the dystopian classic The Handmaid's Tale, now a major TV series, was awarded the prize for her "political intuition and clairvoyance when it comes to dangerous underlying trends and currents."
The 2016 recipient of the prestigious prize was German journalist and author Carolin Emcke, who has written and reported widely from war zones and crisis regions.
The 2018 award ceremony will take place on Sunday, October 14, 2018, the final day of the Frankfurt Book Fair, at the Church of St. Paul in Frankfurt am Main — the site where the Frankfurt National Assembly was formed in 1848 at the height of the democratic revolutions.