During the trip he will visit the house in the small town of
Marktl am Inn near the Austrian border where he spent the first two years of his life, and drop in on his brother, Georg Ratzinger.
In the more public side of the visit, the pope will give three open-air masses, the first on Sunday in Munich, where he was archbishop before being called to the Vatican by the late Pope John Paul II in 1982.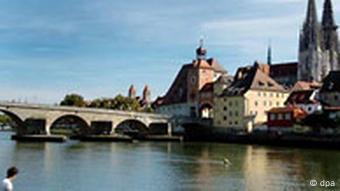 Pope Benedict will also be in the city of Regensburg in Bavaria
He will also lead masses in the small town of Alltöting and in the city of Regensburg.
Benedict was scheduled to arrive at Munich's Franz Joseph Strauss airport at 1330 GMT before traveling to the centre of the city where up to half a million people are expected to gather to welcome him.
Around 5,000 police officers will be on duty in one of the
biggest security operations mounted in southern Germany in recent years.
A personal visit
The trip is only his fourth abroad since he became pope in April last year and it is the second time that Benedict, 79, has visited his homeland as pontiff, having attended the World Youth Day celebrations in Cologne last year.
The Vatican says this will be a more personal visit. The pope has set aside Wednesday to spend with his brother in Regensburg and together they will visit the graves of their mother, father and sister.
"I wanted to see again the places and the people I grew up with and which shaped me and formed my life, and to thank those people," the pope said in an interview with German television ahead of the visit.
Benedict, known as a Vatican hardliner before he became pope, said he also wanted to help convince German believers whose faith was wavering that Catholicism was more than just a set of rules.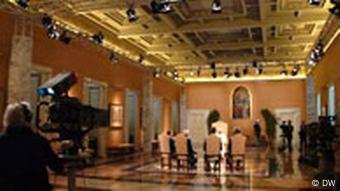 Pope Benedict gave interviews to German broadcasters including Deutsche Welle, earlier this month
"We've heard so much about what is not allowed that now it's time to say: we have a positive idea to offer, that man and woman are made for each other," he said.
He explained he was reluctant to travel often, saying he had "never felt strong enough" to plan many long trips.
"But where such a trip allows me to communicate a message or where, shall I say, it's in response to a sincere request, I'd like to go."
Benedict has visited Poland and Spain in recent months and plans to go to Turkey in November and to Brazil in 2007.
Rush of converts not expected
The election of a German pope has been credited with slowing the flow of people leaving the Catholic faith in the country, but the current Archbishop of Munich, Cardinal Friedrich Wetter, said he did not foresee a rush of converts as a result of the papal visit.
"I am not expecting that there will now be a mass of people going to church," the cardinal told Saturday's Süddeutsche Zeitung daily.
"But why shouldn't we just have a good event that strengthens people and shows them they are not alone in their beliefs?"
In returning to Bavaria, the pope is honoring the stronghold of Catholicism in Germany. Around 7.2 million Catholics live in the wealthy state, representing a quarter of all Catholics in the country.