In a rare ceremony held on Sunday at the Vatican, Pope Francis married the couples who were all from the Rome area.
They had been selected by the diocese of Rome as a realistic sample of modern Catholic couples, from many different social backgrounds.
Though the Vatican views sex outside marriage as a sin, the ceremony included a couple in which the bride already had a child from a previous relationship and the groom had an earlier marriage annulled by the church, as well as several couples who had already been living together before saying "I do."
It's seen as a continuation of the Argentine pontiff's desire for the Catholic Church, which has some 1.3 billion members, to be more open and inclusive.
In his homily, Pope Francis outlined the seriousness of marriage, likening families to "the bricks that build society," and said marriage was "real life, not some television show."
"It's normal that couples fight. That always happens, but don't end the day without making peace, even a small gesture is enough," the pontiff advised the couples.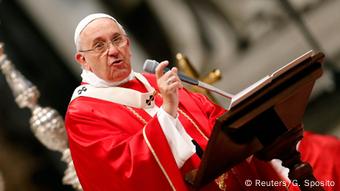 Pope Francis has become known for challenging taboos
Francis has gained a reputation for being more open than his predecessors on the subject of marriage, previously baptizing the child of a single mother along with the daughter of a couple who hadn't been married in a church.
Pontiffs rarely performs wedding ceremonies, the last times being in 1994 and 2000 by Pope John Paul II, who has since been named a saint.
The mass wedding comes ahead of a major Catholic Church conference on the family, where bishops from all over the world will gather at the Vatican to discuss issues of marriage, divorce and contraception in October. One of the major issues up for debate at that conference is the current church ban on allowing people who have divorced then remarried to receive communion.
se/kms (AFP, AP, Reuters)