Polling stations throughout Hungary have officially closed, but authorities have said they are allowing the last few voters who lined up before the 7 p.m. deadline (1700 UTC) to cast their vote.
Hungary's nationalist Prime Minister Viktor Orban is not only seeking his third consecutive term in office since 2010, but also his fourth overall term since 1998.
Read more: Eastern Europe: Democratic principles on the edge
Turnout shortly before the deadline was 68.1 percent, nine points higher than at the same time in the 2014 parliamentary election. Preliminary results are expected after 11 p.m.
Some 8 million Hungarians are eligible to vote for 199 lawmakers, with 106 directly elected according to electoral districts and 93 elected from country-wide party lists.
Europe-wide interest
The vote is being closely observed throughout Europe. Firebrand Prime Minister Orban clashed repeatedly with other EU leaders during his last term, especially with regard to the bloc's response to the refugee influx across Europe in 2015 and 2016.
Orban has also drawn ire from EU institutions over his moves to clamp down on civil society and independent media, while attracting admiration from other nationalist politicians across Europe.
Read more: In Hungary election voters face choice of nightmares
Orban expected to win
Hungary's complex electoral system makes the outcome of the election difficult to predict, though pollsters agree that Orban's Fidesz party, along with its allied Christian Democratic People's Party (KDNP), will likely triumph over a splintered opposition. The two parties controlled 133 seats in the outgoing parliament.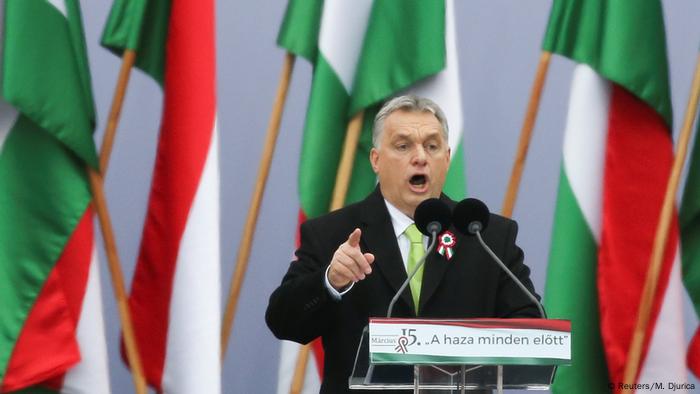 Orban is likely to get the majority of votes, but it remains unclear whether he will manage to achieve a 'supermajority'
Orban's main challengers are Gergely Karacsony, the candidate of the Socialist and Dialogue parties, and Gabor Vona from the nationalist Jobbik party.
Orban's election campaign focused on his staunch anti-migration policies despite opinion polls suggesting that many Hungarians are actually more worried about other social concerns such as poverty, corruption and improving funding for the country's ailing health care system.
Even if Prime Minister Orban's Fidesz party does gain its expected majority, analysts remain uncertain of whether it will manage to achieve the two-thirds "supermajority" it has had since the previous elections, which enabled it to pass some of its controversial bills.
amp, ss/jlw (AFP, AP, dpa)
Each evening at 1830 UTC, DW's editors send out a selection of the day's hard news and quality feature journalism. You can sign up to receive it directly here.