He creates art out of natural materials like pollen, milk or beeswax. Wolfgang Laib was discovered in the late 1970s, when the curator of the Venice Art Biennale visited one of his exhibitions. He immediately received an invitation to Venice, and showed his work in the German Pavilion in 1982.
He caught the attention of the global art world and has since exhibited at two Documentas and at MoMA in New York, and received scores of awards. His latest accolade - the Praemium Imperiale - is considered the Nobel Prize of the Arts. It is presented by the imperial family of Japan on behalf of the Japan Art Association on Wednesday (21.10.2015) and comes with prize money totaling 15 million Yen (about $125,000).
DW: Congratulations on winning the Praemium Imperiale. Is it significant for you that the prize is awarded in Japan?
Wolgang Laib: I have very close ties to Asia, especially to India and Japan. I had a large exhibition in Japan and it was always nice to see how the Japanese responded to my work - especially the pollen works. It's incredibly beautiful to show pollen in Tokyo, in such a huge city where 20, 30 or 40 million people never have the opportunity to see nature with their own eyes. They don't even know what it is anymore. But it's also fascinating to see that these people still have it in them and that has a huge impact. I always felt that I can give people so much with my work.
Which places inspire you?
I have an atelier in southern India, in Tamil Nadu, where I always spend at least two months of the year. In my village in southern Germany, I live very secluded. I've given exhibitions all over the world. I always come back to my village to work.
You also collect pollen there near your house. How long did it take you to collect pollen for your work "Pollen from Hazelnut"? [Eds: The tapestry measures six-by-seven meters and was displayed at the MoMA in New York in 2013.]
That was by far the largest installation that I've ever done. I couldn't do it for just any museum. It was made from pollen that took nearly 20 years to collect. The hazelnut bushes bloom for four, five or six weeks in early spring and that's when I can collect it. I had around 20 jars from the early 90s up until 2011. Sometimes there was a year in which I could only get half a jar, in other years I filled two jars. It depended on the weather - but on average, one jar per year.
If you could change something in the world today, what would it be?
It's not important what I want to change. I became an artist because I think art and culture are the most important things in the world. At the beginning, people thought I was naïve. But I think that art and culture always aim to change humanity and open up new paths.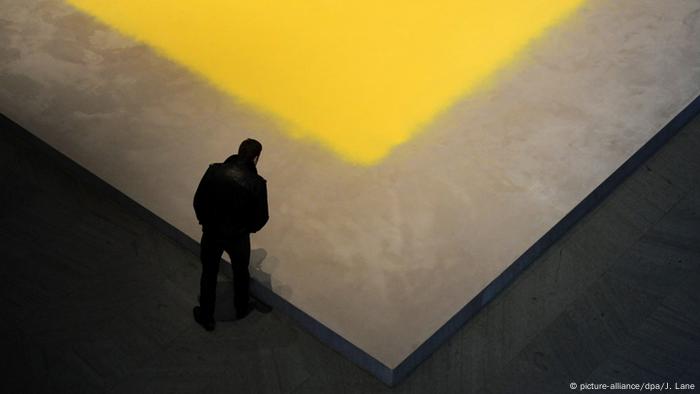 "Pollen for Hazelnut" at the MoMA is made entirely of just that
And is that your aim as well?
Yes, I aim to do that with my art. And I have - haven't I? If you look at history, it's not politics and soldiers that have changed the world, but culture. Culture has always brought humanity to a new place. That's exactly what the Praemium Imperiale is about, and that's why I'm so happy about this prize.