In 2012, a huge trove of art was found hidden in the apartment of late art collector Cornelius Gurlitt, the son of a Nazi-era art dealer. A special task force was established by the German government to help clarify the origins of nearly 1,300 artworks, some of which are suspected of having been confiscated from its owners by the Nazis.
DW: The Gurlitt task force has been active in the background more than in the public eye, still many were surprised to hear that the task force's mission would stop at the end of the year. Is the work completed, the job done?
Ingeborg Berggreen-Merkel: The task is not completed, we're still right in the middle of it, and we will put a great deal of energy in continuing our research. Provenance research of this magnitude - we had 1,258 artworks from Munich and another 239 from Salzburg - can't be done in two years. No one expected it to be finished, and the task force was a temporary project from the start. By the end of 2015, the task force will have a status report on every single artwork from the Munich trove and also several of the Salzburg works.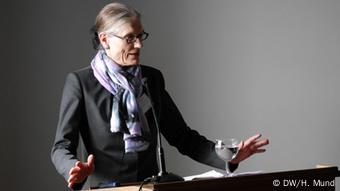 Ingeborg Bergreen-Merkel, director of the Gurlitt Task Force.
You worked with an international team: In which ways did foreign experts support German provenance researchers?
The constellation of the task force is as unique as the art trove. The art market already had international dimensions during the Nazi era. That is true for artists and collectors, but also for members of the Nazi regime: Hildebrand Gurlitt did quite a lot of business in France, for instance. So of course, we had to do research on an international level. We're very thankful to the French authorities, who gave us access to their archives. We've also signed a formal cooperation deal with the French reparations commission (CIVS).
The US is an important partner, too. Many descendents of the Shoah victims live in the US, and their archives provided a lot of material to work with. We're also fortunate to have access to key data banks like Yad Vashem, with the help of our Israeli task force members. We're also international in the sense that we include victims' associations, including the Jewish Claims Conference - and that has proven useful on many occasions. The task force's work is marked by the exchange of results, findings, ideas and speculation among all the members - everyone is involved with all their know-how.
The task force's main job was to determine which of the Gurlitt collection artworks were actually looted by the Nazis. How many of those did you find?
We have final reports on four artworks that are highly likely works stolen by the Nazis. We were also able to determine the previous owner. But this figure says little about our actual work. Even the realization that a work of art was not looted concludes the task force's work concerning this particular work of art. Of the 1,258 artworks seized in Munich, that is the case for more than 500 objects.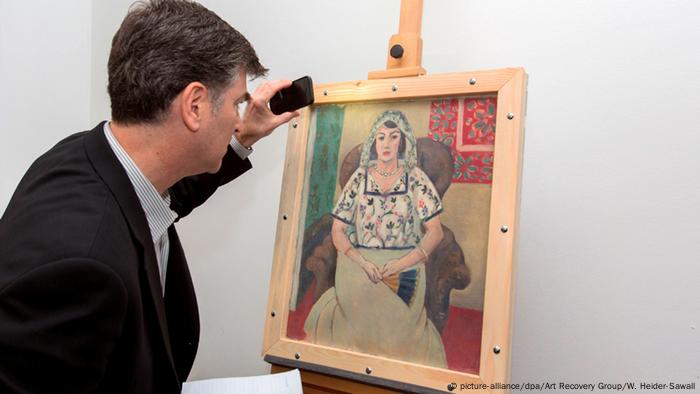 The "Seated Woman" by Matisse was returned to the Rosenberg family
That said, it's important to remember that Cornelius Gurlitt's collection wasn't neatly inventoried like a museum. It was a private collection that we first had to make accessible scientifically before we could start to work with it.
How many requests - domestic and international - to check for provenance did you get? How many people asserted claims? How many did you recognize?
All in all, we've received about 300 requests so far. Of those, 187 requests pertained to works of a particular artist; 499 works are published on Lost Art [a database that registers "cultural objects which as a result of persecution under the Nazi dictatorship and the Second World War were relocated, moved or seized, especially from Jewish owners"]. Here, we have 113 concrete claims for 104 works of art.
The difference in figures shows that there are rival claims for some artworks. Clarifying a claim doesn't automatically mean you've clarified an artwork's provenance. For instance, if we've found out that an artwork belonged to a specific person up to a specific date, but this person's trail is lost before 1945, then the provenance isn't conclusive.
To which extent did these mainly Jewish claimants have to include proof of previous ownership? Presumably, that's a problem for many Holocaust survivors.
The task force's assignment is to clarify two key questions: Is this a work of art that can be proven to have been looted by the Nazis, and secondly, whom was it stolen from?
Of course, we're thankful when people attach documentation to their claim, which happened in 17 cases, while 96 claims did not include any clues. To understand how difficult is to provide documentation today, you have to remember that back then, they were faced with theft, escape and often deportation.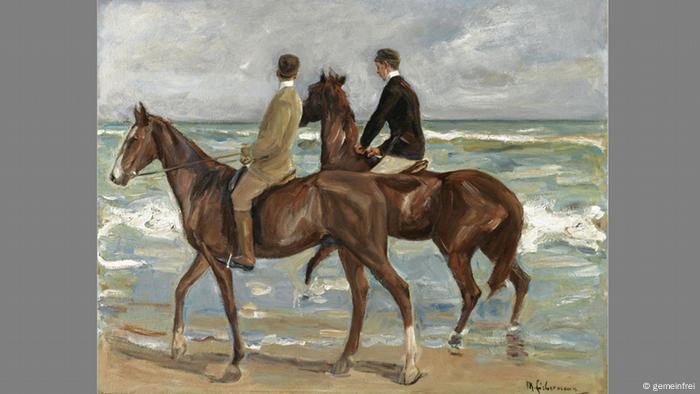 Identifying the works is just one part of the challenge: Max Liebermann painted 64 versions of "Two Riders on a Beach"
One of the main problems was determining the individual artworks' identities. What were the priorities?
Clarifying the identity, apart from ascribing it to an artist, is in fact a great challenge. Many artists created several versions of one and the same subject. Max Liebermann painted "Two Riders on the Beach" 64 times. This is where the task force can't afford to make mistakes: Accuracy is more important than speed.
Clearly, the project has a political dimension: Internationalobservers kept a close watch. As head of the team, what's your personal conclusion?
Apart from its political dimension, heading the task force was of personal interest to me: While trying to figure out the provenance of these pictures, you come across great personalities and when going through the files, you read how brutally they were humiliated, how their dignity was crushed, their artworks stolen - and so often, how they were horribly murdered. As Germans, it is and it remains to be our responsibility to clarify all that, and I'm thankful I was able to play a small role.