The impending Malaysian general election, scheduled to be held on May 9, promises to be a spectacle as incumbent Prime Minister, Najib Razak, faces-off with his one-time-political-ally-turned-adversary, Mahathir Mohammad. Known as Malaysia's "Father of Modernization," 92-year-old Mahathir who led the country for 22 years, recently declared, "The biggest mistake that I have made in my life is choosing Najib."
The Barisan Nasional (BN), a coalition of parties representing various ethnic groups, had won every general election since 1957. This seemingly smooth run — enabled partly via money politics, media and electoral commission control, and widely decried delineation and malapportionment measures — was eventually thwarted by the opposition in the 2008 and 2013 elections.
In 2013, BN, which banks mainly on ethnic Malay and rural votes, won only 47 percent of the popular vote yet secured 60 percent of parliamentary seats. The opposition made inroads in some key states, supported mainly by urban (and somewhat more ethnically balanced) voters.
While campaigning is in full swing via social media and at public hustings, Malaysian voters at home and abroad shared their views with DW about issues that could eventually determine who will lead the Southeast Asian nation over the next five years.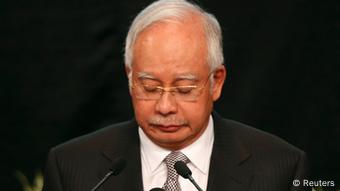 PM Najib is under pressure to deliver a decisive victory for the ruling Barisan Nasional coalition
Bread-and-butter matters
Regardless of political leanings, most Malaysians agree that the country's surging cost of living must be stemmed, with the goods and services tax (GST) introduced in 2015 attracting particular ire.
Of 1,203 Malaysians surveyed last November by independent pollster Merdeka Center, 72 percent cited "economic issues" as their top concern despite strong macroeconomic growth numbers. 40 percent said they either delayed paying or couldn't pay their utility bills while 15 percent said they skipped meals to make ends meet.
"Folks my age can't even afford to rent a house, let alone own one. To me, housing is key to the millennial votes in the next elections," 25-year-old JayJay Denis, a policy analyst and first-time voter in Kuala Lumpur, told DW.
Callistus Antony D'Angelus, a Malaysian living in San Francisco, will be returning home to cast his vote as he mistrusts the country's postal voting system. He told DW, "Economically, the country has been on a downward spiral, and most Malaysians are finding it hard just to get by. The various financial fiascos like 1MDB have been financed by ordinary Malaysians."
Read more:
Thousands in Malaysia take part in rally against prime minister
Malaysia elections - undecided? spoil your vote
The opposition Pakatan Harapan (or Pact of Hope) has promised to abolish the GST within its first 100 days in power and replace it with a sales and services tax "that is fairer and not burdensome to the people and businessmen." Other pledges include a pension plan for housewives, petrol subsidies and increased minimum wages.
Not everyone is convinced though. Newspaper vendor Selvi Thangavelu, 47, a single mother of two, cleans houses on the side to supplement her income. Living and working in the southern state of Johor, she isn't sure if a new government will improve her lot. "Once every five years these people come around with free groceries, asking for our vote and telling us they'll improve our lives. They always talk as if they will be able to change things quickly, but I've already been struggling so long to make ends meet," she told DW.
Time for change?
When the opposition coalition named Mahathir as their candidate for prime minister earlier this year, it raised eyebrows.
It spelt the once unthinkable reconciliation of Mahathir and his ex-deputy Anwar Ibrahim, whom the former jailed under charges of corruption and sodomy. Anwar is currently serving jail time for a second sodomy charge leveled against him under Najib's watch. Mahathir also had to make peace with several other opposition politicians who were charged and imprisoned under draconian laws during his tenure as PM.
This inspired the #UndiRosak or the #SpoiltVote movement, initiated by a largely millennial group weary of the machinations and flip-flopping of Malaysia's political leaders. Yet many Malaysians are intent on casting their votes for a regime change, in spite of Mahathir being in the equation.
"Mahathir is Najib's mentor-turned-tormentor. He presided over a period in Malaysia's history where the seeds of social, political and economic dysfunction were sown. Najib has built on that and taken the rot to unprecedented heights. Socially as well, the current government has presided over policies of racial polarization. Instead of leveraging on the benefits and potential of our diversity, the entrenched policies have divided people along racial lines," D'Angelus told DW.
Others have softened their stance against the nonagenarian, who has since gone on record to apologize and atone for his past political misdeeds.
"I wish the opposition had fielded a much younger person, but I personally don't see a strong candidate anywhere. I would like to believe that learning from his mistakes, Mahathir would make an improved PM, but anyone would be better than Najib at this point! I do think Mahathir was draconian in many ways but at 92, he still thinks of trying to make a difference. Somehow that touches me. How many old people still want to slog it out like that?" 55-year-old freelance editor and writer Elizabeth Chong told DW.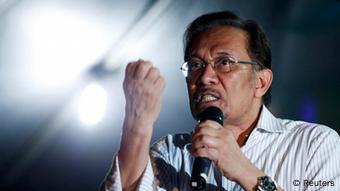 Opposition leader Anwar Ibrahim is currently serving jail time for a second sodomy charge leveled against him under Najib's watch
Meanwhile, Joane Mildred, 34, a Malaysian living in Germany points to the achievements of the opposition state governments since 2013.
"Penang (in northern Malaysia) is a good example. The opposition has not held the state for long, but things are changing slowly in the right direction. The opposition will not be able to do wonders in the first four years but in time, I am sure that they will," she told DW.
Party over personality
BN also can't quite shake off the albatross round its neck, namely the 1MDB scandal. In July 2016, the US Department of Justice revealed in a civil suit that up to $3.5 billion (€2.93 billion) had been stolen from 1MDB. Of that, about $731 million was deposited into the personal account of "Malaysian Official No1," a thinly disguised reference to Najib. He has denied all allegations and despite the scandal being investigated in at least 10 other countries, no one has been prosecuted in Malaysia yet.
"Once upon a time Malaysia was called an Asian Tiger. Today Malaysia is not even a pussycat," wrote Mahathir in his widely-read blog in February this year, adding "we have become one of the ten most corrupt countries in the world."
Read more: Malaysian government calls for 10-year jail sentence for 'fake news'
A pro-opposition meme shared on social media suggests that if the current opposition alliance forms the next government, it would be kept on its toes in parliament by BN, given the latter's 60 years of experience in allegedly practicing corruption, nepotism and cronyism.
It must, however, be said that the current opposition includes some of Najib's former colleagues who had condoned most of his policies until they crossed swords on the 1MDB issue. Therefore, whether this loose alliance of "ex-BN" and steadfast opposition politicians can agree on policies and fulfil their electoral promises remains moot.
"Honestly, I do not like my options. The leaders of both the ruling party and the opposition have been linked to too many scandals but at this point, I am not planning to vote for the person, but for the party," 34-year-old freelance content writer, Desiree Tresa Gasper, told DW. She admitted that while there is no way of knowing if a regime change will be good or bad for the country, "as we Malaysians often say 'belum cuba, belum tahu' (if you haven't tried it, you'll never know)."
D'Angelus adds that there will be a lot of work to do in rebuilding the country if BN is indeed defeated at the polls, and that the people and a restored civil society must work to keep the opposition honest.
"At the very least, there would be an opportunity for Malaysians to take charge of their own destiny."