Lawmakers in Malaysia are set to consider a tough new bill on media on Monday, with the proposed law aimed at cracking down on "fake news" with long prison terms and hefty fines for the offenders.
The law would also apply to foreigners operating outside Malaysia's borders as long as citizens of the country were affected by the reports.
The government-drafted bill defines fake news as "any news, information, data and reports which is, or are, wholly or partly false whether in the form of features, visuals or audio recordings or in any other form capable of suggesting words or ideas."
It also foresees jail terms of up to 10-years and fines of up to 500,000 ringgit ($128,000/ €103,600) for people who create and publish such reports.
Read more: In Malaysia, almost everything is an 'official secret'
Pressure over 1MDB scandal
Opposition lawmaker Ong Kian Ming described the bill as an "attack on the press and an attempt to instill fear" as elections loom.
Prime Minister Najib Razak faces massive pressure over the long-running corruption scandal that allegedly saw his associates steal billions from a state development fund. Foreign media first reported the theft from the 1Malaysia Development Berhad (1MDB) fund in 2015.
Najib denies any wrongdoing. His administration has responded harshly to media outlets reporting on the story and fired critics within the government. The Malaysian Edge newspaper was suspended in 2015 and other websites have been blocked.
Last week, a deputy minister said that any news on 1MDB was "fake" unless it has been verified by the government.
Read more: Malaysian Prime Minister Razak to get sweeping new security powers
A 'powerful weapon'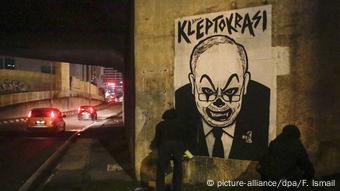 Cartoonists published critical images of Najib, accusing him of being part of the ruling "kleptocracy"
Talking to the AFP news agency, opposition deputy Charles Santiago said the bill was "a powerful weapon for the government to silence dissent in the country."
"It is timed for the elections and to silence discussions on 1MDB," he said.
The law is set to pass several reading in the government-controlled parliament before the vote.
Responding to the criticism, Malaysia's environmental minister, Wan Junaidi Tuanku Jaafar, insisted the law "will not be abused."
"It is not aimed at silencing critics," he said.
Other governments in the South Asian region, including Singapore and the Philippines, have already proposed similar laws.
dj/kms (AP, AFP, Reuters)