Next month, Malaysians will get their say in whether their scandal-tainted prime minister, Najib Razak, should remain in office or give way to his 92-year-old former mentor, ex-PM Mahathir Mohammad. Voters in the Southeast Asian nation will cast their ballots on May 9 in a general election viewed as the sternest-ever political test faced by Najib and his party.
The incumbent prime minister is under pressure to deliver a decisive victory for the ruling Barisan Nasional (BN) coalition, which has governed Malaysia since independence in 1957 but has seen support drop in recent years. The coalition lost its two-third parliamentary majority after the 2008 elections and then in 2013 lost the popular vote for the first time in its history to the opposition alliance Pakatan Harapan.
To woo voters and deflect public anger at increased costs of living, Najib recently unveiled a lavish 220-page election manifesto with cash benefits for low-income workers and rural ethnic Malays, his key voting bloc, and a pledge to create millions of jobs.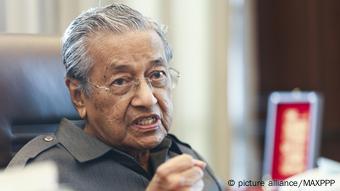 If elected,92-year-old Mahathir would become the world's oldest prime minister
Najib's campaign slogan "Make my country great with BN" appears to have been an imitation of Donald Trump's 2016 election motto, "Make America Great Again."
"This election is not about Najib versus the opposition leader. This election is not about BN versus the opposition," he was quoted by the AP news agency as saying at the launch of his election manifesto on Saturday. "The key question is which side can provide a better life for you, your family, children and grandchildren, as well as their future."
"This war, we must win! Never let it go to the opposition!" Najib said.
Read more: Malaysia elections - undecided? spoil your vote
A tough contest
The 64-year-old Najib is seeking a third term in office at a time when his popularity has taken a beating following the massive corruption scandal involving the 1MDB state fund, which is being probed by the United States and other countries on suspicions of cross-border embezzlement and money laundering.
Read more: Malaysia state fund 1MBD denies sending money to PM Najib
Billions of dollars were reportedly looted from the fund, and it is claimed that large sums ended up in the personal bank accounts of Najib. The prime minister and the fund deny any wrongdoing.
Najib also faces a resurgent opposition, led by Mahathir, who was Asia's longest-serving leader before he retired after 22 years in 2003. Mahathir, dubbed the country's "Father of Modernization," is credited with transforming Malaysia into an industrial nation from a rural backwater during his iron-fisted rule.
But his critics call him a "dictator," pointing to his hard stance on dissidents and the press, and curbing of the powers of the judiciary while he was prime minister. They also blame him for consolidating power in the hands of the executive during his tenure.
The former strongman returned to politics two years ago as anger grew over the 1MDB controversy, and he now leads a four-party opposition alliance to unseat Najib. But his nascent political party was ordered by authorities last week to temporarily disband over registration requirements, prompting Mahathir to accuse Najib of "terrorizing" his opponents to win the polls.
Read more: Artist Fahmi Reza: 'Malaysian politics is a circus full of clowns'
Advantage for Najib?
Observers say Najib has already shaped the battlefield in his favor by inducing the opposition to split and carrying out measures such as redistricting electoral boundaries, which will aid his party's prospects. "Najib and the ruling party hold the upper hand," Ibrahim Suffian, director of independent pollster Merdeka Center, told DW.
In late March, the Malaysian parliament agreed to redraw parliamentary and state boundaries in a manner that apparently favors Najib's party, which has more support in rural areas than in big cities. The 30 percent of Malaysia's population that lives in rural areas controls more than half the seats in parliament.
Analysts argue that the 1MDB corruption saga hasn't really undercut Najib's support among rural Malays, a key vote bank for his party. The leader has also vowed to protect and secure the privileges of the Muslim-Malay majority, which makes up close to 60 percent of the multiracial nation's population of roughly 32 million people, which also includes Chinese and Indian minorities.
"The 1MDB issue has hurt Najib's image, but the scandal first broke about three years ago and many voters have become acclimatized by the topic," Suffian said, adding that "politics in multiethnic Malaysia is not only about policies and conduct of leadership, but also about how political parties are perceived to be able to convince voters that they are able to protect the voters' interests along communal and regional lines."
Hence, he stressed, the impact of 1MDB will be balanced with other topics that voters deem to be of equal if not more importance.
A robust economy also boosts the electoral prospects of the incumbent prime minister, who has overseen solid growth buoyed by a recovery in global crude oil prices and increased trade and infrastructure investment from the nation's largest trading partner, China. Malaysia's gross domestic product grew 5.9 percent in 2017 ― its best performance in three years.
Hindering free speech
The government also recently passed a law against "fake news," which could be used to muzzle free speech and the expression of views critical of Najib and his administration. The legislation defines fake news as "any news, information, data and reports which is or are wholly or partly false, whether in the form of features, visuals or audio recordings or in any other form capable of suggesting words or ideas."
It foresees jail terms of up to 10 years and fines of up to 500,000 ringgit ($128,000/€103,600) for people who create and publish such reports. The law would also apply to foreigners operating outside Malaysia's borders as long as citizens of the country were affected by the reports. Critics say the law was passed with an eye on the elections and to silence criticism of the government.
Given the choice between Najib and Mahathir, some Malaysians view themselves as caught between a rock and a hard place. "Topics over how government plans to alleviate rising costs of living and stagnant wages will be discussed, but, in keeping with the traditionalist nature of Malaysian society, a large part of the politicking will revolve around the personalities of Mahathir and Najib, particularly over their merits and track record in addressing the needs of the Malay society," Suffian said.