Pfahls, who served as state secretary for defense from 1987 to 1992 under then Chancellor Helmut Kohl, surprised the court in the southern city of Augsburg by acknowledging that he accepted about one million euros ($1.2 million) for facilitating the sale of armored vehicles to the United States.
The 62-year-old said the money was transferred to a Swiss bank account for him in 1990 by arms dealer Karlheinz Schreiber, who is currently fighting his own extradition to Germany from Canada.
"I cannot explain how this blunder came about," Pfahls, who is also a former head of the German domestic intelligence agency, told the court. "I somehow got caught up in things."
Bribes and gun-running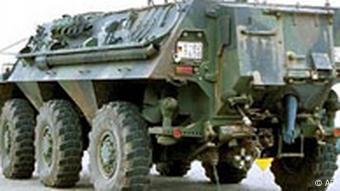 Pfahls is actually on trial over a separate affair. He is accused of taking nearly two million euros in bribes for the sale of 36 armored vehicles to Saudi Arabia in 1991, and failing to declare the earnings.
The presiding judge at the court in the southern city of Augsburg, Maximilian Hofmeister, said Pfahls could face a relatively lenient sentence of two years and three months in prison if he delivered a full confession.
"This will not be a short trial," Hofmeister said. "But it does not have to be excessively long. That depends on you, Mr Pfahls."
Confession
Hofmeister said that the defendant had made statements to authorities ahead of the trial that were tantamount to a confession and said that those statements should now be repeated before the court.
Prosecutors believe Pfahls accepted bribe money from Schreiber in a Swiss bank account during the 1991 Gulf War for helping German industrial giant Thyssen obtain the armored vehicle contract.
After five years on the run, Pfahls was arrested in Paris by French and German police in July last year.
He initially opposed his extradition to Germany but later relented, claiming the conditions at the Sante prison in the French capital were "untenable and unacceptable."
Bad timing for opposition
The trial comes as Germany heads into a national election in September, reviving old questions about campaign financing scandals during the Kohl era.
His defense lawyers said Tuesday they would like to invite Kohl and former foreign ministers Klaus Kinkel and Hans-Dietrich Genscher to testify about the sale of the armored vehicles to Saudi Arabia.