Prior to his arrest Holger Pfahls had spent five years on the run from German prosecutors, who want to put him on trial on charges of corruption and tax evasion.
He has been held in custody in a French prison since he was arrested outside his home in Paris on an international warrant last year.
Pfahls served as state secretary for defense under former Chancellor Helmut Kohl from 1989 to 1992. The charges against him stem from a 1991 weapons deal. He's accused of accepting the equivalent of almost €2 million ($2.6 million) from German-Canadian businessman Karlheinz Schreiber to pushing through a deal to deliver 36 Fuchs armored vehicles to Saudi Arabia.
International itinerary
Pfahls is also suspected of tax evasion, for failing to declare the bribe to the German tax authorities as income. For his part, former Chancellor Kohl has always denied that any bribes were involved in the armoured-vehicles deal.

"Most Wanted" manhunt pictures put out by the German Federal Criminal Police
Pfahls fled Germany in 1999, and investigators say over the next five years his flight from the German authorities took him to many cities around the world, including Hong Kong, Jakarta, Madrid and even Montreal.
But last July, his five years on the run came to an end. The prosecutor in the southern-German city of Augsburg, Richard Nemetz, confirmed Pfahls' arrest to reporters.
At the time, Nemetz told reporters: "The accused, Dr. Pfahls, was arrested today outside of his home in Paris. He had been observed by the local police for some time. When approached on the street, the suspect admitted that he was the Dr. Pfahls police were looking for."
Avoiding extradition, until now
In the months following his arrest, Pfahls sought to avoid being extradited to Germany. At a hearing in October, his lawyers had opposed extradition, arguing that the statute of limitations on the charges against him had lapsed under French law. But a month later, a Paris appeals court ruled that he could be extradited.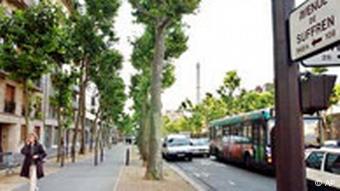 Pfahls was arrested in front of his building on this Paris street (Avenue de Suffren)
Pfahls then refrained from taking his case to a higher court, citing the "untenable and unacceptable jail conditions in Paris's Sante prison and his declining health." Pfahls is said to be suffering from high blood pressure.
Despite being in the so-called "VIP wing" of Paris' Maison d'arrêt de la Santé prison, Pfahls deplored the conditions there, saying there were cockroaches in his cell and saying the food was "just slightly better than in Congo."
At least there are no cockroaches
Occasionally, the one-time Wunderkind who had reached the highest echelons of German political society needed to share his cell with French criminals whose hygiene, he said, left something to be desired.
The French authorities extradited the 61-year-old ex-minister on Thursday (Jan. 20); now in Augsburg, he will be brought before a court within 24 hours.
But officials say he is unlikely to be put on trial before the end of March. Until then, he will be held in an Augsburg penitentiary, the JVA, that was once a Carmelite cloister.
'No special treatment'
Officials in Augsburg said Pfahls' single cell will likely be cockroach-free. The cell contains a narrow bed, a toilet and sink, two simple chairs, and a bulletin board.
"We don't give out special treatment," a prison spokesman told AFP news service.