Farm worker Andreas Kuckert and his three German colleagues manage to harvest 50 to 100 kilos (110 to 220 pounds) of asparagus each day depending on how well the vegetables grow and how quickly the four work. They use a machine that looks like a tea cart on wheels to lift the heavy black foil off the mounds of dirt from which the tender, white spears shoot up.

"We're used to this," explains the 42-year old from his workplace on a Beelitz farm in the eastern German state of Brandenburg. "We're all from the countryside," he says, noting that city folk have come in the past to help but soon determined it was nothing for them.

On a nearby field a group of Poles is working much more quickly than the Germans -- and without the help of a machine to lift the 400-meter-long (440-yard-long) foil. A Polish farm laborer harvests up to 120 kilos of asparagus per day, which is why Beelitz farmers are especially keen on hiring them.

With their two farms and a total of 150 hectares (370 acres) of asparagus fields, Jürgen Jakobs and his brother Josef employ 300 Poles each year to help them bring in the highly-prized vegetable. However, this season has shaped up to be very different.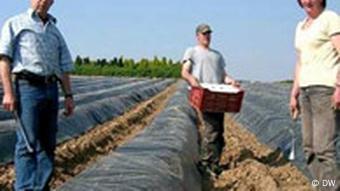 Germany grows more asparagus than any other European country

"We have many new faces this year, since many well-tried employees are going to England or Scandinavia," Jürgen Jakobs explained. Seasonal workers at the Jakobs' farms earn five to six euros ($6.80 to $8.15) an hour, while in Scandinavian countries they can earn up to 12 and 15 euros, they tell him.

Poles preferred

Jakobs was hopeful that he could hire 60 farm hands before the end of the season, in late June. But they had to be Polish, he said, adding that he and his brother, who speaks fluent Polish, had had bad experiences with Romanians and Bulgarians. They were convinced that the Poles worked harder.

German field hands aren't in high demand in Beelitz either. The federal government requires farmers to hire their countrymen and women as seasonal laborers -- at least 10 percent of their workers must be German -- but they're hard to find, Jakobs said.

The Germans -- even the unemployed -- are willing to work in catering and sales, but few will work in the fields.

Unacceptable work?

One reason for the reluctance among Germans is the pay. Andreas Kuckert, originally a stone mason, was unable to find work even after re-training to become a roofer. The low wage wasn't what attracted him to harvesting asparagus. But it was preferable to hanging around at home. He earns four euros per hour and receives another 18 euros a day from the unemployment office to cover the costs of traveling -- up to 100 kilometers (60 miles) -- out to the fields.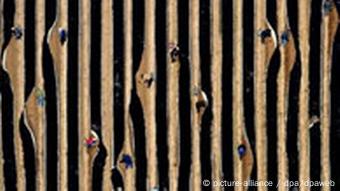 Farm hands at work

That wage is significantly higher than what the Polish seasonal workers receive, despite the fact that the Germans rarely bring in enough asparagus to earn the bonuses that quicker, Polish colleagues do. But it's still not enough to motivate many Germans to work on the fields. They say its unacceptable work.

That's something Jürgen Jakobs can't understand.

"If I were to expect people to work with poisonous chemicals here, it would be one thing," he said. "But to say: those are Poles; they can go ahead and do it. For me it's not acceptable -- I think that's nonsense."