There's a continual stream of people bustling in and out of the store on the Böser asparagus farm in Bruchsal in the southern German state of Baden-Württemberg. The unseasonably warm April temperatures have caused the asparagus to shoot earlier than normal. This has caused record harvests for this time of the year, but it's still not as much as farmers originally hoped for.
"With such a mild winter, we thought we would just need a couple of rays of sun, and the asparagus would appear," said Wolfgang Böser, the chairman of the Association of South German Asparagus and Strawberry Farmers. "But then we had a cold snap."
"Still, the harvest is in full swing and straight after Easter, production just shot up," he said.
Fresh is best
Many of the customers here have driven a long way to buy kilos of fresh white asparagus, and it's not because the prized vegetable is necessarily cheaper direct from the farm -- it's because Germans are obsessed with freshness when it comes to asparagus.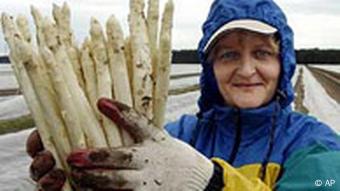 Fresh asparagus squeaks when it's rubbed together
"I know it comes fresh from the field in the morning and afternoon, and I will pay the price," one man said, clutching two bursting bags of white asparagus spears.
During the asparagus season, which traditionally runs from mid-April to June 24, Germans buy nearly 50 percent of their asparagus directly from farmers' shops and market stalls. This is a significant figure, considering that Germans usually only purchase 7 percent of all of their fruit and vegetables direct.
"We sell about 85 percent of our asparagus here in the farm shop or in the restaurant we have on site," said Böser, whose 38-hectare (94-acre) farm produces three to four tons of asparagus a day at the height of the season.
Asparagus obsession
During its short season, asparagus features prominently on restaurant menus and café chalkboards across the country, reflecting Germans' obsession with the prized vegetable. In fact, they eat more white asparagus than anyone else in the world, chomping their way through 1.35 kilos (three pounds) per head.
It isn't difficult for gourmets to find fresh local asparagus, since with a production of some 82,000 tons, Germany is the biggest asparagus grower in Europe. The area under asparagus production in the country has doubled in the past 12 years to nearly 20,000 hectares, making asparagus the country's biggest vegetable crop in terms of area and value.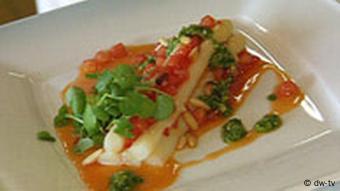 German demand for asparagus has increased 40 percent in the past decade
The increased German cultivation has caused imports of fresh asparagus to drop significantly -- from 50 percent to 25 percent. This is because Germans are so picky about the freshness of "edible ivory" that they prefer the local product.
"There isn't a pronounced preference for 'Grown in Germany' with most other types of vegetables, such as lettuce and cauliflower" said Christoph Behr, the head of the Horticulture Department at the Center for Market and Price Reporting Office.
"But Germans want German asparagus and only buy imported asparagus before the local season starts, or if it's extremely cheap," he said.
Exporting countries suffering
According to Behr, the countries hardest hit by the increased German production are France and the Netherlands. But Spain and Greece, whose season begins several weeks before the German one, are also being affected.
"The problem is that more asparagus is being grown under sheeting or tunnels in Germany, so the season is continually starting earlier," Behr said. "This means that exporting countries are cutting back on cultivation."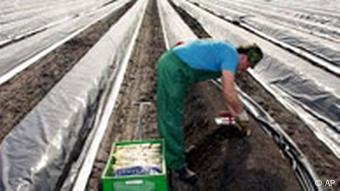 At least three-quarters of German asparagus is grown under plastic sheeting for an earlier harvest
To get white asparagus, the plant needs to grow in the dark and the spear has to be cut before it emerges from the soil and is exposed to the light -- a growing method that is very labor intensive and makes white asparagus about one and a half to two times more expensive than the green variety. But it seems Germans are so enamored with "white gold" that they are happy to pay the price difference.
"It has a very strong tradition," Behr said. "It has a different taste -- it's not as highly-flavored, but it's what the Germans are used to."