Amid a mass security operation, Albanian police have arrested the man who flew a drone with a "Greater Albania" flag at the international match between Albania and Serbia last year.
"Ismail Morinaj was arrested overnight from Tuesday to Wednesday in Tirana in illegal possession of a Zastava pistol and six bullets," Albanian police said in a statement.
Police said they also discovered the handgun and more than 30 tickets to Thursday's match in Morinaj's possession, adding that three other people were in the vehicle during the arrest.
The arrest was part of a major security operation by Albanian authorities to ensure violence will not erupt on Thursday night.
At least 1,500 police officers have been deployed ahead of the Thursday's game between the Serbian and Albanian national teams, scheduled to take place in Elbasan, around 50 kilometers (31 miles) south of the Albanian capital, Tirana.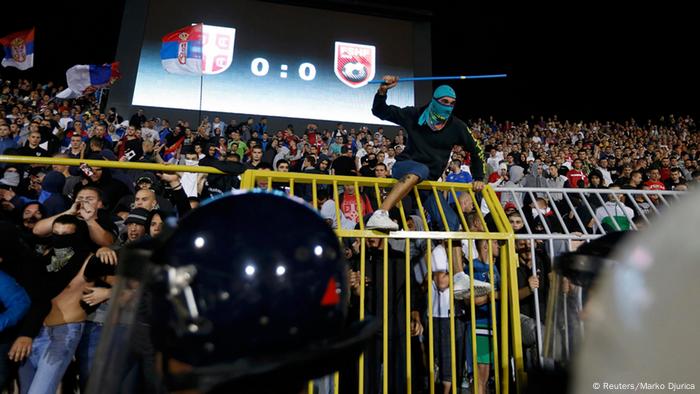 Morinaj's drone stunt prompted Serbian fans to clash with riot police on their way to the pitch
Albanian Interior Minister Saimir Tahiri said plainclothes police officers may be used to ensure there are no incidents at the match, adding that an elite unit of security personnel had been assigned to protecting the Serbian national team.
"This is an opportunity to show our values in supporting the national team and hosting the guest team," Tahiri said, according to the AP news agency.
Albanian ranks third in the Euro 2016 qualifiers' Group I with 11 points. Denmark ranks second with 12 points, while Portugal leads with 15 points.
Players have appealed to the public for restraint, with the message: "No to racism, respect the anthems, do not provoke incidents."
The top two contenders of each group automatically qualify for UEFA Euro 2016, while the third-place team must win a playoff game to enter the tournament's finals.
Meanwhile, Serbia has been mathematically eliminated from qualifying for Euro 2016. Thursday's match will be played without any away supporters, save 70 Serbian students. The match in Belgrade was also played without Albanian fans in the stands and had to be halted due to violence on and off the field.
"We are immensely motivated to show that we are better than our standings show," said Serbian defender Nenad Tomovic. "Due to our bitter rivalry, we also want to make it difficult for them to qualify for Euro 2016."
ls/sms (AFP, AP, Reuters)