The Serbian Interior Ministry said Rama had been arrested for controlling a drone, carrying an adapted version of the Albanian flag, from his seat in an executive box at Belgrade's Partizan stadium.
The drone, depicting a so-called "Greater Albania," had made a series of passes over the pitch, before - in the 41st minute - Serbian player Stefan Mitrovic grabbed at the flag, triggering a brawl as Albanian players tried to protect it.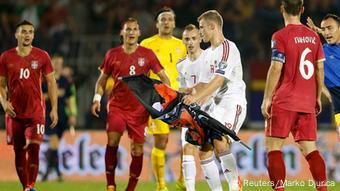 The flag was pulled down by Serbian player Stefan Mitrovic
Several Serbia fans invaded the pitch and clashed with the Albanian team and, after the delay had lasted about half an hour, English referee Martin Atkinson abandoned the Euro 2016 qualifying match.
"What happened is something we can't comprehend at the moment," Serbia captain Branislav Ivanovic told reporters.
"We wanted to continue the match, but Albanian players said they were not psychologically ready," Ivanovic added.
"We can only regret that football took a back seat but it is difficult to draw any conclusions or make any comments now."
Booing and flares thrown
Even before the game, Serbia fans had booed during the Albanian national anthem. Albanian players also complained flares had been thrown onto the pitch.
Despite the Interior Ministry assertion that Rama had been arrested - news that was carried by Serbian state television - officials in Tirana said they believed he was on his way home.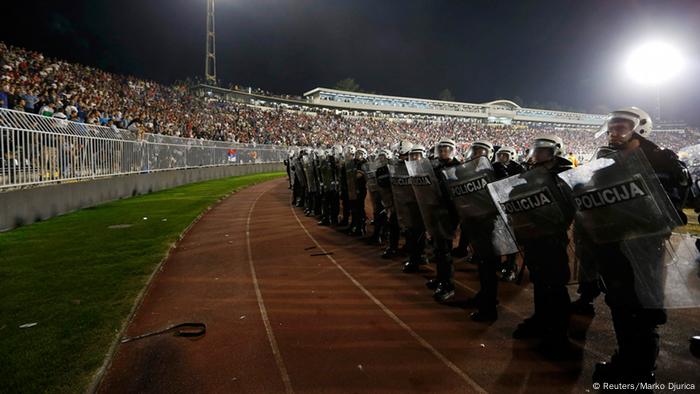 The disagreements between the two nations mean passions run high on the pitch
The Group I game had always been seen as potential tinderbox, given the tension that still exists after the ethnically-Albanian Kosovo region seceded from Serbia in February 2008. Albanian fans had been warned against traveling to the game, and most were barred from attending.
Some Serbians accuse Tirana of seeking to create a "greater Albania" that would unite ethnically Albanian communities in Albania, Kosovo, Montenegro, southern Serbia and the Former Yugoslav Republic of Macedonia.
rc/glb (AFP, AP, Reuters)