It happened on a bright day, in the middle of Warsaw. A man held a pistol to the back of a Vietnamese man and screamed "Get out of Poland!" Yet the man responsible for the xenophobic attack got off lightly, because as police reported, it was just a cap gun.
Anti-immigrant attitudes
It used to be that foreigners were rarely humiliated or beaten up in Poland - but now such cases are increasing at an alarming rate. There have even been xenophobically-motivated death threats, as in the case of an imam in the western Polish economic hub of Poznan. Youssef Chadid has held a Polish passport since 1996 and serves as board chairman of the Muslim League in Poland. But that does not protect him from threats and intimidation. "They want to get rid of me, so they're threatening me day and night," complains Chadid. He is considering moving to another country if it does not stop.
The case of a Muslim pupil from Berlin, who was spat on on an open road during a class trip in the eastern city of Lublin, was widely discussed in government-critical media. She reported that Polish police simply laughed and trivialized the attack when she asked for help. After protests from Adam Bodnar, the country's human rights spokesman, or ombudsman, the prosecutor's office initiated proceedings over both the attack and the lack of police response.
However, Bodnar himself is now under pressure. The neo-fascist group "National Radical Camp" (ONR) has filed a slander case against him. The former human rights prosecutor has long been a thorn in the side of the populists from Poland's ruling right-wing nationalist "Law and Justice" (PiS) party. Bodnar is one of the last top elected democratic control body representatives remaining from the country's center-right liberal predecessor government.
Government stays silent
Since 2016, Bodnar has been warning of a growing hatred of Islam in Poland and has called on the government to take countermeasures, to no avail. Government representatives instead usually remain silent. Hardly anyone opposes xenophobic violence and the rise of right-wing extremist groups. Interior Minister Mariusz Blaszczak said at the beginning of the year, just after a Polish man attacked a kebab shop in the country's northeast and was subsequently killed by its employees, that Poles were "afraid of Islam because of terrorist attacks in Western Europe."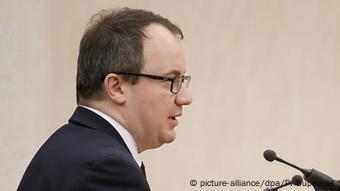 Bodnar has long been a thorn in the side of the PiS
The sentiment toward foreigners is worsening. The Monitoring Center on Racist and Xenophobic Behavior, Poland's independent anti-racism nongovernmental organization (NGO), reports that some attacks were even directed against Poles that were thought to be Arab because of their "southern appearance."
"Overall, we are witnessing a huge increase in the number of anti-xenophobic attacks, both in terms of their number and their degree," says Konrad Dulkowski of the anti-racism NGO. Dulkowski sees a clear correlation since PiS took power a year-and-a-half ago. Today the monitoring center receives 30-100 complaints per day. Police statistics also paint a disturbing picture. The number of crimes motivated by racist or xenophobic sentiment has multiplied sixfold since 2010. In 2016, there were officially over 700 such offenses.
However, the xenophobia monitoring center complains that many crimes directed at foreigners are not even prosecuted. "The state organs are trying to cover up the fact that the hatred of foreigners that helped the PiS to power is now out of bounds," Dulkowski says.
Cheap PiS election propaganda
During the 2015 election campaign, PiS politicians ranted about immigrants hailing from the Middle East and Africa. At the height of Europe's refugee crisis, the party also opposed the inclusion of around 7,000 "quota refugees" from camps in Greece and Italy, although Poland's then-center-right liberal government had promised their admission. PiS Party leader Jaroslaw Kaczynski's fearmongering included warnings that epidemics such as cholera could be brought in by refugees, or that Polish women would be attacked. Top PiS candidates called Islam "a major danger" by establishing a direct link between the wave of refugee arrivals and the terrorist attacks in Paris and Brussels. All of this has contributed to the uncertainty of society.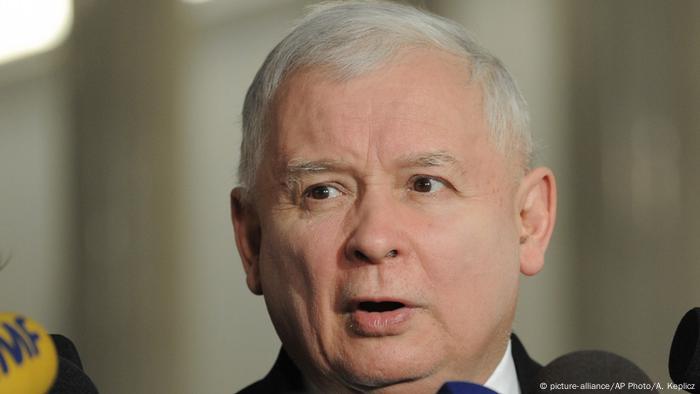 PiS leader Kaczynski has stoked fears over foreigners in Poland
The fact that Germany, with its "welcome culture," wanted to persuade the other EU members to include refugees incensed Poland's right-wingers. To this day, Warsaw accuses Berlin of having patronized Europe during the refugee crisis.
For this reason, too, PiS has been mobilizing against "political correctness" and the "left-wing EU establishment" since the party's 2015 government takeover. As late as the 1990s, Poland took in tens of thousands of Muslim Chechens as refugees. Today, even Chechen families with small children on the Polish-Belarusian border in Terespol are prevented from applying for asylum. But in the face of this obvious violation of human rights, there is little opposition from the public today.
According to the country's central registry of foreigners, the number of applications to stay in Poland has increased by 86 percent since 2015. The highest percentages of those seeking to settle permanently are Ukrainian, Belarusian, Indian, Chinese and Vietnamese.