At least nine devotees were nailed to wooden crosses in the northern Philippines on Good Friday, as the Catholic country kicked off its Easter celebrations.
The annual festivities attract thousands of people but are frowned upon by the Catholic Church, which insists the crucifixion of Jesus Christ "need not be repeated."
Huge crowds traveled to San Pedro Cutud in the province of Pampanga to watch villagers dressed as Roman centurions pin worshippers to crosses using 8-centimeter (3-inch) spikes.
Read more: Good Friday events celebrate the crucifixion of Christ ahead of Easter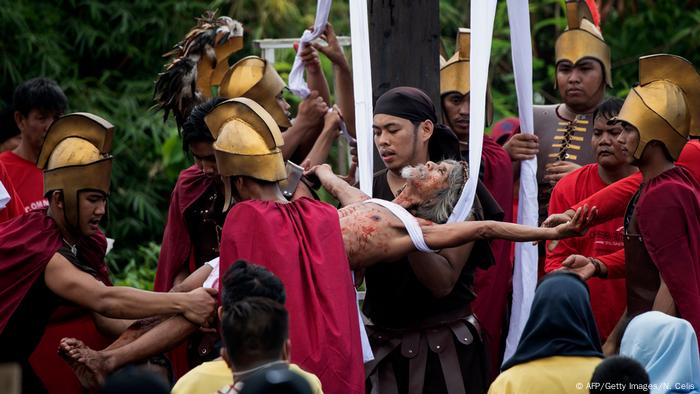 A first aid crew is on hand to attend to devotees who volunteer to be nailed to the cross
Earlier, processions of men wearing crowns of twigs and beating themselves bloody with whips and bamboo sticks made their way through the village streets. Others carried crosses or lay on the hot pavement while receiving a thrashing from a fellow participant.
Similar shows were put on in several villages across the country's north.
Read more: Germany's love affair with the egg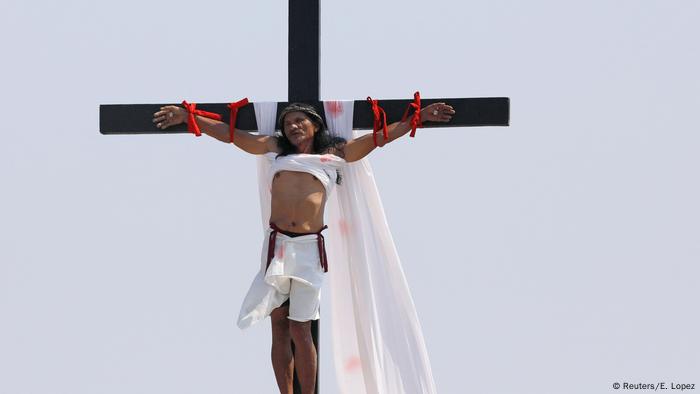 Ruben Enaje, 58, grimaces in pain after being nailed to the cross in San Fernando City, Pampanga
Easter is a major religious holiday in the Philippines, where around 80% of the country's population is Roman Catholic. While many spend Good Friday at church or visiting relatives, others mark the occasion with the more extreme kinds of religious rituals performed in San Pedro Cutud.
The Catholic Church has distanced itself from such displays, urging the faithful to instead show their commitment through prayer and acts of charity.
"The crucifixion and death of Jesus are more than enough to redeem humanity from the effects of sins. They are once in a lifetime events that need not be repeated," Father Jerome Secillano of the Catholic Bishops' Conference of the Philippines said.
"Holy Week ... is not the time to showcase man's propensity for entertainment and Pharisaical tendencies," he added.
nm/rc (AFP, dpa)
Every day, DW's editors send out a selection of the day's hard news and quality feature journalism. Sign up for the newsletter here.