Tens of thousands of protesters, including the revered former manager of Barcelona's soccer team, rallied in the city Sunday in support of a Catalan independence referendum slated for October 1.
Catalonia's regional-government, defied Madrid on Friday by setting a date for a binding vote even though the referendum has been ruled illegal by Spain's Constitutional Court.
"We will vote, even if the Spanish state doesn't want it," Pep Guardiola told the crowd speaking in Catalan, Spanish and English. "There is no other way; the only possible response is to vote," he added.
Guardiola, who is the current manager for Manchester City and a former manager for Bayern Munich, read a manifesto at a rally attended by more 30,000 supporters of Catalan independence.
He said "democracies in Europe and around the world to stand by us as we defend our rights of freedom, political expression and the right to vote."
Spain's government has vowed to block the vote, claiming it is unconstitutional since the matter would affect all Spaniards.
But the demonstrators were undeterred.
"I think independence is the only solution," said Ramon Fon, a retired 67-year-old at the rally.
"I want the referendum as a first step, and if the majority shares my opinion, then to win independence," he said, with the flag of Catalonia draped across his shoulders.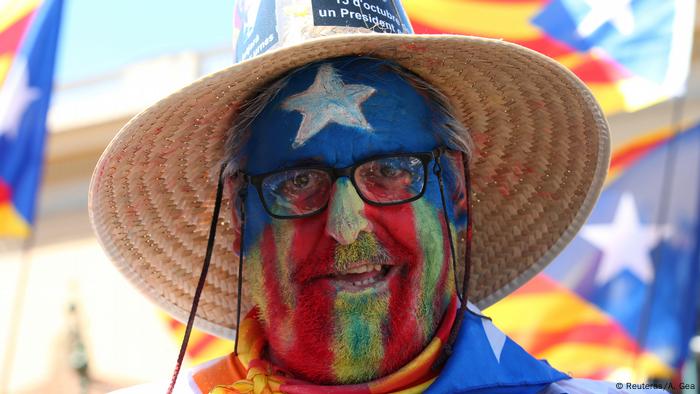 Many Catalans are deeply passionate about the issue of independence from Spain
Mixed poll results
The latest opinion poll by the regional government found 73 percent of Catalans favor holding a referendum similar to the one held in Scotland in 2014, although that one had the approval of the British government.
The same regional poll found that 48.5 percent of respondents opposed independence, while 44.3 percent supported it.
In 2014, Catalonia held a non-binding vote in which more than 80 percent of those who cast a ballot chose independence, but only 2.3 million out of 6.3 million eligible voters bothered to cast a ballot.
Catalonia is a wealthy region of 7.5 million people in northeastern Spain. The area is fiercely proud of its language and customs, and has long pushed for greater autonomy from Madrid.
Catalonia's regional president Carles Puigdemont said people will be asked to vote on the question: "Do you want Catalonia to be an independent state in the form of a republic?"
If a majority votes "yes," Puigdemont has said the regional government will immediately start proceedings to separate from Spain.
But Spanish Prime Minister Mariano Rajoy has vowed to be just as tough as his separatist opponents, and he has the backing of the country's high court.
The Constitutional Court ruled in February against the latest planned referendum and warned Catalan leaders they would face repercussions if they continued with their referendum.
bik/rc (AP, AFP)