The buzzing of an Israeli drone is present again on this hot summer day in Gaza. The "Zannanas," as they are nick-named - Arabic for "buzzers" - are always in the air over the Gaza Strip. For many here they represent a military intrusion into daily life and also serve as a reminder of the worst days of the 2014 war.
"One never knows when the next war will start, it can happen any time," a weary passer-by said in Shejaia, one of the worst affected neighborhoods in the eastern part of Gaza.
Scenes of destruction in this neighborhood are a constant reminder of the 52-day war in 2014. Nearly a year later, some of the rubble has been cleared, but damaged and bombed-out homes across vast fields of grey rubble still dominate the landscape. The neighborhood is clearly far from being rebuilt. Residents often see convoys of armored cars passing through; a tour through the neighborhood has become a must for foreign dignitaries and politicians visiting the Gaza Strip, which remains isolated from the world as Israel and Egypt tightly control their borders with it.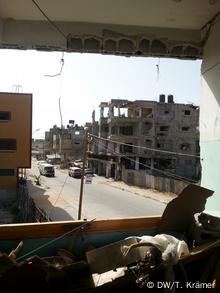 Reconstruction in Shejaia has been extremely slow going
Issam Alewa has seen many of those convoys passing through in the past months. He said it is important that foreigners come to Gaza and see the damage first hand.
"We welcome them. Let them all come and see it," said the father of 13 children. But expectations are low that the situation will improve any time soon. Alewa's home is barely inhabitable. Most of the outer walls of the three-story house are gone. The ceilings are riddled with holes. The family lives on the first floor with a sitting room that doesn't have any walls.
"Everybody tells me that it is not safe to stay here, and that I should tear it down," the 52-year-old said. "But I don't know where else to go."
Right after the conflict, he received a one-time payment from Hamas and other aid organizations. But now he said he relies on his salary as a clerk, which is only partially paid every three months.
"With electric cables sticking out from the walls, I am very worried that my children would touch anything around the house. Nothing is safe here," he said, barely holding back his tears. "I could have never believed how hopeless everything will get."
The whole neighborhood is no longer what it used to be, he added. Some neighbors rented flats in other parts of the city while others have modestly repaired their homes or built a makeshift structure next to their land.

Slow reconstruction process

Stories like these are all too familiar to Robert Turner. For three years the director of the United Nations Relief and Works Agency for Palestine Refugees (UNRWA) worked around the clock. He is due to leave his post in mid-July. During his time in Gaza, he witnessed both wars in 2012 and in 2014. There are many reasons why the population in Gaza is frustrated and angry, he said from his office in Gaza City.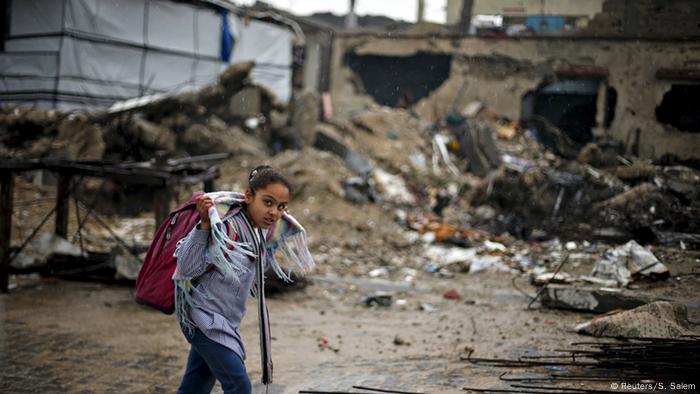 The 52-day war leveled many parts of the Gaza Strip
"One, of course, is that reconstruction is too slow, we are in the ninth month after the end of war and not a single completely destroyed house has been rebuilt," Turner said. "People are angry and frustrated at the lack of political progress, particularly in the inter-Palestinian reconciliation and, of course, by the fact that the blockade remains in place, which will soon come to its ninth year."
Israel and Egypt continue to control the borders of the densely populated area, which makes the recovery process slow and complicated.
But some progress has been made. UNRWA schools were reopened three weeks after the conflict ended in August, despite the fact that several schools were damaged or used as shelters for people who had fled their homes. Additionally, almost 60 000 families have so far received aid to repair their damaged homes through the Gaza Reconstruction Mechanism (GRM), which was brokered by the UN with Israel and the Palestinian Authority last October. However, financial pressure and strict controls over importing building materials from Israel make the GRM a very complicated process. Israel is concerned that building materials will be used by militants to reconstruct tunnels.
Failure of reconciliation

Prospects for Gaza's reconstruction have been further dimmed by a faltering reconciliation process between the Palestinian factions Fatah and Hamas. Hamas dissolved its government in Gaza once a new Palestinian transitional government was established in June last year. However, it still retains tight control over security and administration of the Gaza Strip.
International donors have proven reluctant to deliver on pledges of $5.4 billion to finance Gaza's reconstruction since the Palestinian Authority is not fully in charge there. The slow pace of recovery and staggering unemployment led the World Bank to join the UNRWA in warning that Gaza is on the brink of collapse.
"A lot of factors pile on top of each other: unemployment remains by 40 percent, youth unemployment is more than 60 percent," said the UNRWA's Turner. "Now, people have more or less given up. They don't have any greater expectations that their children's lives are going to be any better or that the situation is going to improve."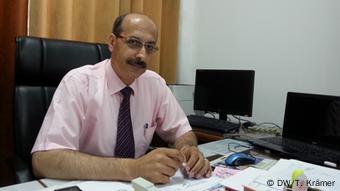 Hamada's house was destroyed during the 2014 war
Mazen Hamada, a professor in environmental chemistry at Al Azhar University in Gaza City, said infighting between Palestinian groups harms average citizens as it prevents money and other forms of aid from flowing to Gaza.
"We have two governments in Gaza, and they don't get along. And this is why everything here is stuck and we suffer from this," he said. "I can only hope that the international community doesn't wait for them to sort out the problem - that might never happen."
Hamada, who studied in Germany, lost his house during the war. After receiving a phone call from the Israeli army, his family had to flee from their home in Gaza City's Al Tuffah neighborhood. Minutes later the home of 20 years was reduced to rubble by an F-16 bomb.
"Until today, I don't know why our house was targeted," Hamada said. "Everything is gone, our belongings, childhood memories of my four children, everything."
He currently rents a small, two-bedroom flat in Gaza City, for which he received a rental subsidy from UNRWA for three months. Like many others, Hamada said he fears that another war might be just around the corner due to lack of political progress on peace talks.
"I wake up every day and think, another war could start today, just like this, any minute, without a warning," Hamada said. "Everybody here is stressed out about it and everybody is afraid of a new war, which might happen any time soon."