At least 352 civilians have been killed in strikes by the US-led military coalition on so-called "Islamic State" (IS) targets in Iraq and Syria since 2014, with 45 of the deaths occurring between November 2016 and March 2017, the US military said in a statement on Sunday.
In its monthly assessment of civilian casualties, the Combined Joint Task Force said it was still examining 42 reports of civilian deaths. Eighty civilian deaths from August 2014 to the present were included that had not been announced previously, and two civilian deaths were subtracted after being found not to have been caused by the coalition.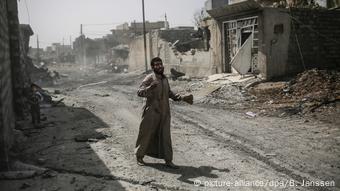 Fighting in Mosul has claimed many civilian lives
The assessment did not include possible casualties from a March 17 strike on IS fighters in the northern Iraqi city of Mosul, which is still being investigated by the US military. Residents reported that more than 100 civilians were killed in the attack, which sparked outrage in Iraq and beyond.
Much higher death toll?
The military's official tally is anyway far below those of activists and monitoring groups. The London-based monitoring group Airwars says that more than 3,000 civilians in Iraq and Syria have died in coalition strikes since 2014.
The Pentagon said that "all feasible precautions were taken" to prevent the loss of civilian lives during each strike, and that any civilian casualties were "unintentional."
"We regret the unintentional loss of civilian lives ... and express our deepest sympathies to the families and others affected by these strikes," it said in the statement.
The United States began its campaign of air strikes against the jihadist group in 2014 after its fighters pushed into Iraq from Syria, taking large swaths of territory in the north and west in a lightning offensive. Since then, Iraqi forces have gradually reclaimed much of the territory taken, with a few areas in the west of Mosul being the last major stronghold of the group in Iraq.