It all began in late May with a private citizen's initiative called "Please Help Malaysia!" on the GoGetFunding website that quickly raised more than $3,500 (€2,986) from Malaysians eager to help pay off the Southeast Asian nation's debts.
This came on the heels of the sobering press conference by Finance Minister Lim Guan Eng who disclosed that the federal government's actual debt and liabilities stood at 1.087 trillion ringgit ($250.8 billion) or 80.3 percent of the nation's gross domestic product (GDP) as of December 31 last year.
Social media was abuzz with talk of how and where Malaysians could transfer funds, prompting even politicians to warn them against donating to unofficial fundraising campaigns or falling victim to scammers looking to make a quick buck.
Read more: Malaysia election: People were 'disgusted with government's corruption'
Thus, Tabung Harapan Malaysia ­— or Malaysia's "Hope Fund" — was launched on May 30 to "provide a systematic and transparent platform to ensure all contributions and donations from the people are properly managed and organized."
Within 24 hours of being set up, Malaysians donated more than 7 million ringgit ($1.76 million); at the time of writing, the sum stood at 31 million ringgit.
Anger at excesses
"I did not expect it. But it shows love for the country, and also the anger that Malaysians were deceived and misled by all these financial scandals," Lim said in an interview with The Malay Mail.
He believes that the images of bags filled with cash and designer handbags seized by police as part of the 1Malaysia Development Berhad (1MDB) corruption investigations played a decisive role in galvanizing this unprecedented crowdfunding exercise.
Investigators took three days to count 35 bags of cash seized from three properties linked to former Prime Minister Najib Razak. In all, they netted 114 million ringgit in 26 different currencies. Gold bars, watches and jewelry in another 37 bags have yet to be valued by experts. Not to mention the 284 Hermes Birkin handbags belonging to Najib's wife, Rosmah Mansor, which are said to cost anywhere between $11,900 and $300,000 each.
Act of patriotism
Regardless of the amount contributed to this national cause, the Malaysian media have since been headlining the public's acts of generosity: from a retiree's touching handwritten note containing 100 ringgit to youngsters offering car wash services to raise funds.
"In my opinion, it's an act of patriotism. We don't need to do this since we are already paying taxes. The fact that people are not only willing to do this but also initiated the move is a step in the right direction. It's voluntary after all," lecturer Sheela Muthu told DW.
Some Malaysians refer to how South Koreans came to their country's aid in 1998 following the Asian financial crisis.
"They donated their own gold jewelry that amounted up to $2.1 billion to help settle their country's debts. Some of these gold pieces were family heirlooms and wedding gifts. The country even managed to clear its debts to the IMF in 2001, three years ahead of schedule! Look at South Korea now. If they can do it, we can do it," retail manager Wong Chai Mei told DW.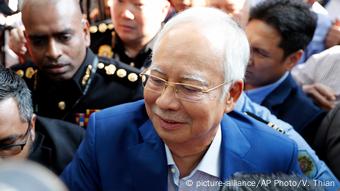 Investigators took three days to count 35 bags of cash seized from three properties linked to former PM Najib Razak
Corporations have offered to chip in too. Malindo Air (a full-service airline owned by Indonesia and headquartered in Malaysia) has pledged to contribute 1 ringgit from each ticket sold for Malaysian destinations for a period of three months. National car maker PROTON has also pledged 10 ringgit from every car they sell between June and December this year.
Political stunt
While donations are voluntary and will be tax-exempt, the newly set up fund's objective and how such an exercise might reflect on the country, remain moot.
Professor James Chin, Director of the Asia Institute of the University of Tasmania, is of the opinion that the fund is a political stunt aimed at building support for the new coalition government.
"By giving people a direct way to donate, they are making a statement about saving the country from debt — thus, indirectly indicting former PM Najib, who stole a few billions. This is a clever way of building political support for the new government," Chin, an expert on governance issues in Southeast Asia, including Malaysia, Indonesia and Singapore, told DW.
Read more: Artist Fahmi Reza: 'Malaysian politics is a circus full of clowns'
Former finance ministry deputy secretary general, Ramon Navaratnam, was quoted as saying that it is "embarrassing for the rakyat (citizens) to be expected to bail out the government" as the country's budget isn't extremely strained as yet.
"This is naturally a bad precedent because it might encourage the government to be lax in debt management and expect the people to bail them out," said Navaratnam, who previously also headed Transparency International Malaysia.
Let the wealthy lead the way
"The main culprits behind the mess we're in today should be made to cough up the dough. The 1MDB investigations should be fast-tracked so that we can recoup the monies taken from us — the people of Malaysia, like how the US Justice Department put it. The same applies to tax evaders and student loan defaulters. They shouldn't be let off the hook so easily. All this adds up too, right?" Anita D'cruz, a bank clerk, told DW.
D'Cruz isn't alone. Some Malaysians have expressed skepticism about the fund, overwhelmingly stating that the 1MDB scandal was the previous government's doing and not for the already economically burdened citizens to undo. For them, transparency in collecting and distributing these funds is now paramount.
In an online opinion piece, Kua Kia Soong, an adviser to SUARAM (a Malaysian human rights organization), suggested that this fund be used instead for wealth redistribution to benefit the country's indigenous as well as bottom 40 percent (B40) income groups.
"To remind Malaysians, Malaysia's 50 richest persons (or the top 0.0017 percent) have a total wealth of $70 billion, or more than 280 billion ringgit, while the total wealth of the B40 is only 20 billion ringgit ($5 billion)," he wrote, adding that it is the wealthiest 1 percent who should lead the campaign.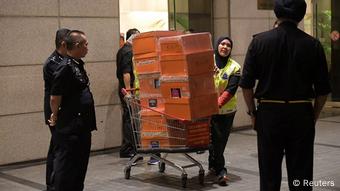 A Malaysian police officer pushes a trolley during a raid of three apartments in a condominum owned by former PM Najib's family
Turning a corner
The Hope Fund is also often mentioned in the same breath as "The Amazing Race" — referring to the pre-election collaborations between Malaysians at home and abroad to rush as many postal votes home in time for the elections.
Have Malaysians turned a corner in embracing their role as an electorate with the voice and capability to collectively steer the nation's fortunes?
"This is part of living in the post-truth politics and social media age. People have a very short span of attention so you need to create 'events' or 'moments' for political mobilization. The young people are good in using social media to come up with ideas where ordinary people can take part to show their patriotism, and giving money to pay off your debt to save the country, is easily the best," Chin told DW.
Most donors, however, see it as a turning point in Malaysian nationhood, with some referring to former US President John. F. Kennedy's famous quote: "Ask not what your country can do for you; ask what you can do for your country."
Meanwhile, Sheela Muthu says that she's willing to part with some money on a monthly basis "for the benefit of all of us including the future generations."
"The faster we bring this country to its former glory, the happier all of us will be."