Live coverage has ended for today. For a summary of the latest events, click here.
All updates in Universal Coordinated Time (UTC)
Coordinated "Islamic State" group terror attacks in Paris late Friday night have left at least 129 dead and more than 200 wounded. Eight assailants have been killed, seven of them after blowing themselves up. Six gun and bomb attacks across the city targeted restaurants and bars, a concert hall and spots near the football stadium. President Francois Hollande has declared a state of emergency in France.
19:05: Belgium's federal prosecutor's office said authorities have made three arrests, so far, related to the Paris attacks. A rental car with Belgian license plates was seen close to the Bataclan theater on Friday night..
18:20: Paris Prosecutor Francois Molins has said that 129 died in the attacks, with 352 injured. Of those in hospital, 99 are in critical condition. He said there appeared to be three teams of attackers. All had AK-47 assault rifles. The attackers evoked Iraq and Syria during their attack on the Bataclan concert hall, Molins said.
17:53: German Interior Minister Thomas de Maiziere says the country has beefed up border controls with France after the Paris attacks. De Maiziere said the move follows a request from France to all of its neighbors to increase controls along their common borders.
17:28: Belgian Justice Minister Koen Geens says several people have been arrested in the Belgian capital, Brussels, in connection with the Paris terrorist attacks. Minister Koen Geens told the VRT network the arrests came after a rental car with Belgian license plates was seen close to the Bataclan theater. Police organized several raids in the St. Jans Molenbeek neighborhood on Saturday.
17:20: A drawing by French artist Jean Jullien, comprising a peace symbol adapted to look like the Eiffel Tower, has become an emblem of solidarity with Paris on social media.
17:11: A Twitter campaign has emerged for English football fans to sing La Marseillaise at England's international friendly match against France on Tuesday.
16:56: Belgian police say they have raided properties in a Brussels neighborhood in connection with the Paris attacks. A source close to the operations told the Reuters news agency there had been "between two and three searches, linked to the Paris attacks" and that one man had been arrested.
16:46: A Greek minister has said a Syrian passport found at the Bataclan concert hall had belonged to an asylum seeker who registered on the Greek island of Leros in October. "We confirm that the Syrian passport holder came through the Greek island of Leros on October 3 where he was registered under EU rules," said a statement issued by Nikos Toskas, the minister for citizen protection. French police said the document was found "near the body of one of the attackers."
16.35: German Interior Minister Thomas de Maiziere said Saturday that authorities have not yet established any link between a man from Montenegro who was arrested last week with a car-load of weapons and gunmen in Paris. "There is a link to France, but it is unclear if there is a link to the attacks," said de Maiziere. He added that investigations are ongoing. De Maiziere also made a plea "to avoid drawing such swift links to the situation surrounding refugees."
15:55: Following the lead of cities like New York and Sydney, Berlin has illuminated the Brandenburg Gate with the colors of the French tricolor.
15.32: A France-bound plane was evacuated in order to carry out a search before departing Amsterdam's Schiphol airport after "threats" against it were posted on Twitter, the AFP news agency reported Dutch police as saying on Saturday. "We always take threats very seriously and we decided here to evacuate the passengers and to search the aircraft," police spokesman Dennis Muller told AFP, without linking the incident to the Paris attacks.
15.07: France says a UN climate conference set to take place at the end of the month will go ahead, despite Friday's events. "The COP21 has to take place," French Foreign Minister Laurent Fabius told journalists in Vienna, according to a transcript issued by his ministry. "It will take place with reinforced security measures, but it is an absolutely vital action against the climate imbalance and of course it will take place."
14.48: US President Barack Obama is to meet with his top advisers to be briefed on the latest intelligence about the Paris attacks. "Before departing for the G20 Summit, the president will convene his National Security Council to review the latest intelligence surrounding the attacks in Paris," an official said.
14:21 A French national has been identified as one of the four men who stormed the Bataclan concert hall, killing at least 82 people. Investigators say the body of one of the attackers was of a man known to intelligence services.
14.15:Russia has said it is beefing up its security after the attacks in Paris, placing security services on high alert. It is also urging vigilance among citizens and promising tighter transport safety measures.
13.59: Hospital officials say at least 300 people were hospitalized as a result of the attacks, of whom some 80 people are in a critical condition. Included were 43 witnesses or relatives of those caught up in the attacks who needed support.
13.41: An France-England friendly match scheduled for Tuesday will go ahead despite the events in Paris, according to the French football federation.
13.37: The Eiffel Tower - normally visited by up to 20,000 people a day - will be closed indefinitely after the attacks, the iconic landmark's operator said on Saturday.
13:18: Britain's Queen Elizabeth II has said she and husband Prince Philip were "deeply shocked" by the attacks. Prime Minister David Cameron expressed Britain's solidarity with the French people.
13:08 The French interior minister has authorized local authorities to implement curfews if necessary.
13:01 France will increase security at French diplomatic missions and official buildings around the world, Foreign Minister Laurent Fabius said. Several countries have announced they will beef up security at French facilities abroad.
12:45 German police have been carrying out selective checks on the border with France. The controls include a greater police presence at airports and international train connections. The controls are being carried out with the cooperation of France.
12:40 Saudi Arabia's top religious body has condemend the terror attacks. "Terrorists are not sanctioned by Islam and these acts are contrary to values of mercy it brought to the world," the Council of Senior Scholars said in a statement.
12:21 French officials have said the terror attacks will in no way impact upcoming climate talks in Paris. World leaders are meeting at the end of the month in Paris to strike a global climate change compact.
12:12 A German official has said "there is reason to believe" a connection exists between the Paris attacks and a man arrested last week in Bavaria with machine guns, pistols and explosives hidden in his car. Bavaria's premier Horst Seehofer said the man's arrest highlights "how important it is for us to have some clarity on who is in our country and who is travelling through our country."
12:04 French police have found a Syrian passport on the body of one of the suicide bombers at Stade de France stadium.
11:55 German Chancellor Angela Merkel and French President Francois Hollande have spoken over the phone. Germany has pledge all support to France to combat terrorism.
11:48 Syrian's state news agency SANA has reported comments made by President Bashar al-Assad to a visiting French delegation. Assad told the delegation of parliamentarians, media and academics: "Wrong policies adopted by western states, particularly France, towards events in the region, and its ignorance of the support of a number of its allies to terrorists are reasons behind the expansion of terrorism."
11:40 Pope Francis has said he "doesn't understand these things." The pontiff said there is no religious justification for such violence. "Religious and human. This is not human."
11:31 Russian President Vladimir Putin has said in a telegram to French Presidient Francois Hollande that fighting terrorism requires "real unity of the forces of the international community."
11:23 German President Joachim Gauck has said terrorism won't impact European values and democracy. "Europe's values and Europe's freedom have been attacked by powerful enemies throughout history. Nevertheless, our Europe is a fortress of democracy and human rights. Even the brutal attacks of Islamist terrorists won't change this."
11:05 Belgium's prime minister has called on citizens to avoid unnecessary travel to Paris.
10:57 The "Islamic State" group has claimed responsibility for a spate of gun and bomb attacks in Paris. A statement from the terrorist group said "Crusader France" would remain a target so long as it continues to bomb IS in Syria and Iraq.
10:53 In a sign the Paris terror attacks could upset a unified European response to the refugee crisis, Poland's prime minister designate Beata Szydlo has said that after the terror attacks her country cannot accept EU quotas for migrants.
10:50 Germany has ordered flags to fly at half staff in solidarity with the France.
10:46 Spanish Prime Minister Mariano Rajoy has said on television that Spain was on high alert and had thwarted several terror attacks in the past few weeks.
10:35 The EU foreign policy chief Frederica Mogherini has said the bloody attacks in Paris should give new impetus to international efforts to resolve the conflict in Syria. Mogherini is in Vienna meeting with the foreign ministers of nearly 20 countries to discuss a way out of the Syrian crisis.
10:22 French President Francois Hollande has called for three days of national mourning.
10:18 Syrian President Bashar al-Assad has condemned the Paris terror attacks and said his country has faced similar terrorism during the country's civil war. "What France suffered from savage terror is what the Syrian people have been enduring for over five years," Assad was quoted as saying by state media.
10:15 The French Islamic association (CFCM) has called the Paris terror attacks "hideous" and "abhorrent." CFCM called on all French to come together in solidarity.
10:02 The German football squad that was playing a friendly match with France have arrived in Frankfurt after spending the night at the national football stadium in Paris.
10:00 French President Francois Hollande has said he will address an extraordinary session of parliament on Monday.
09:59 Blaming the "Islamic State" group for the Paris terror attacks, French President Francois Hollande has described the attacks as an act of war.
09:56 French President Francois Hollande has said the "Islamic State" was behind Friday's deadly Paris terror attacks. He said the attacks were organized abroad with help from inside France.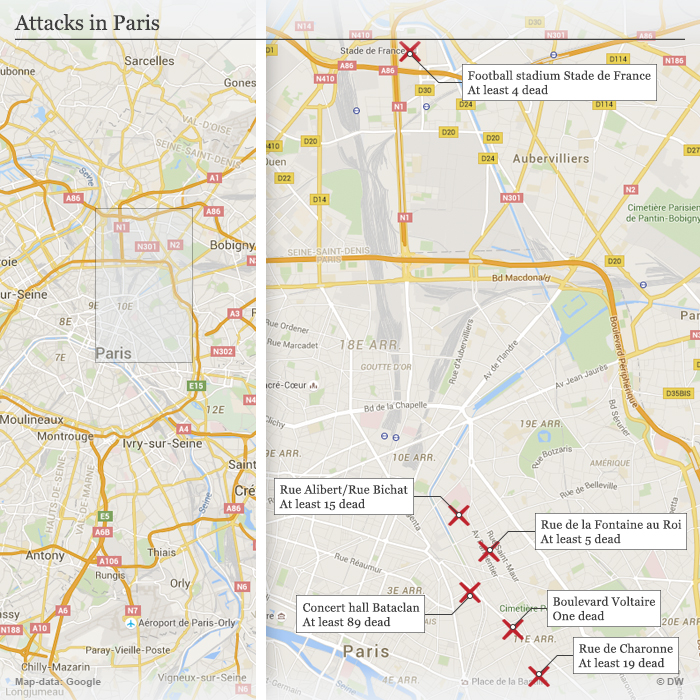 09:43 Germany may have arrested an accomplice to the Paris terror attacks. German police arrested on November 4 a man in Bavaria with weapons, ammunition and almost a kilogram of explosives in his car. German authorities are in contact with their French counterparts.
09:24 Italy has adopted heightened security in the wake of the terror attacks in Paris. Prime Minister Matteo Renzi said in a televised address that the possibility of further attacks should not be underestimated. Renzi is convening a special meeting of the country's national security council.
09:17 French Foreign Minister Laurent Fabius has said the Paris terror attacks show the necessity of greater coordination against the "Islamic State." Fabius is in Vienna for international talks on the crisis in Syria.
09:06 The German football squad has departed from Charles de Gaulle airport. It was playing a friendly match with France last night when bombs went off near the stadium.
09:05 Police in Berlin have increased security levels, particularly near French facilities.
08:58 French authorities are looking for possible accomplices in the deadly Paris terror attacks. President Francois Hollande has convened a Saturday morning security meeting.
08:47 Iraqi Prime Minister Haider al-Abadi has said the Paris attacks show that fighting terrorism requires international efforts.
08:37 German Foreign Minister Frank-Walter Steinmeier has called the terror attacks in Paris an "inferno of terror." Steinmeier was at the friendly football match between Germany and France when bombs went off near the national stadium.
08:33 French police have said the death toll from the Paris terror attacks has risen to 127 people. Nearly 180 people have also been injured, 80 critically wounded.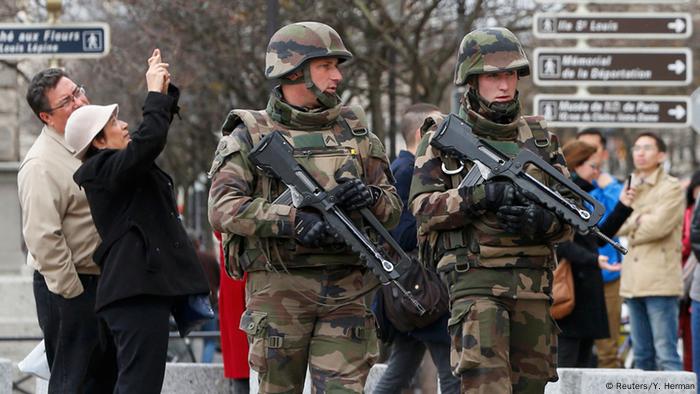 08:27 Russia has said the terror attacks in Paris will impact international talks on Syria in Vienna on Saturday. "Those events which happened not far from here will absolutely cause adjustments in the agenda of today's events," Russian Foreign Ministry spokeswoman Maria Zakharova said.
08:17 British Prime Minister David Cameron has said he will chair crisis talks after Paris attacks.
08:09 German Chancellor Angela Merkel has said she will convene her cabinet later today to discuss developments and responses.
08:09 German Chancellor Angela Merkel has said the response to terrorism should be to show we believe in humanity and peace and respect. "Our way of life is stronger than terrorism," she said.
8:09 German Chancellor Angela Merkel has said the terror attacks in Paris were an attack on freedom that impacts everybody. She said Germany will stand by France and develop a common response against terrorism.
08:01 Saudi Arabia, the home to Islam's two holiest cities, has called the Paris attacks "heinous." Speaking in Vienna ahead of Syria talks, the country's foreign minister, Adel al-Jubeir, said the terror attacks "are in violation and contravention of all ethics, morals and religions."
07:59 Authorities in Paris have closed many public facilities on Saturday. Schools, museums, libraries, gyms, swimming pools and food markets will be closed, the city said on Twitter.
07:00 Iranian President Hassan Rouhani has canceled his trip to Rome and Paris schedule for this weekend. Rouhani condemned the terror attacks.
03:40 Irish rock band U2 has postponed its Saturday night performance in Paris in the wake of the deadly attacks. "We hope and pray that all of our fans in Paris are safe," the band said in a statement.
03:37 Investigators say eight suspected attackers believed to have been killed, AFP reports.
03:35 French President Francois Hollande and US President Barack Obama vow to reinforce counter-terrorism efforts following multiple attacks.
03:34 Singapore has raised its security level following the Paris attacks. "These attacks show that no country is immune, even when there is a state of heightened security," Home Affairs Minister K. Shanmugam said in a statement.
03:32 Investigators tell the DPA news agency that around 200 people were injured - 80 seriously - in Friday night's attacks.
02:35 The Paris police prefect says the attackers at the Bataclan concert hall blew themselves up with suicide belts as police closed in, according to The Associated Press. He said all attackers are believed to be dead, although police are looking for accomplices.
02:07 A Saudi Arabian source cited by state news agency SPA says the Paris attacks demonstrate the importance of eradicating threats to global security.
02:00 New York Governor Andrew Cuomo says the One World Trade Center spire
will be lit blue, white and red in honor of dozens killed in the Paris attacks.
01:50 US Secretary of State John Kerry is describing the attacks in Paris as "heinous, evil" and "vile," calling them an "assault on our common humanity."
Kerry also says the US is ready to "provide whatever support the French government may require."
US Vice President Joe Biden says the attacks are "heartbreaking" and "outrageous," adding that "such savagery can never threaten who we are."
01:38 Paris prosecutor's office confirms that five suspected attackers had been "neutralized" by security forces.
01:30 Germany's national soccer team, which was in Paris playing their counterparts when the attacks began, are unsure whether they will depart France on Saturday as planned due to the state of emergency and sealed border crossings. There is a feeling of "great uncertainty and great fear" in the dressing room, team manager Oliver Bierhoff said. "Players were immediately on their phones to phone home or find out what was happening."
01:24 Paris prosecutors say death toll could exceed 120 from attacks at six different sites in the French capital. Five suspected attackers likely dead as well.
01:21 Canadian Prime Minister Justin Trudeau says he is shocked and saddened by the attacks in Paris. "Canada stands with France at this dark time and offers all possible assistance," Trudeau said. "We will continue to work closely with the international community to help prevent these terrible, senseless acts."
01:17 French President Francois Hollande has said in a televised address that the siege is over. "The terrorists who were not far from here were killed," Hollande said after visiting a security command center near the Bataclan concert hall.
01:14 Eurostar, the high-speed passenger rail service connecting Paris to the UK and other European destinations says its trains will run Saturday as scheduled. But the carrier is offering free ticket exchanges for ticketed passengers who don't wish to travel.
01:08 Authorities say at least four of the suspected attackers have been killed, including three inside the Bataclan theater where the US rock band Eagles of Death Metal had been performing to a sold-out audience.
01:02 A live celebrity-filled webcast to raise awareness about climate change has been canceled in the wake of the deadly attacks. A statement from 24 Hours of Reality and Live Earth said it was suspending the event that had been billed to include musical acts Duran Duran, Elton John and others.
00:53 Investigators have downgraded the death toll to around 120, AFP reports.
00:51 Belgium has instituted passport checks on all arrivals from France - by and air - following deadly Paris attacks. Belgian prime minister has summoned emergency cabinet.
00:49 US-air carrier American Airlines Group says it has suspended passenger flights to Paris. French foreign ministry has said airports remain open.
00:47 French presidency has announced the mobilization of 1,500 troops.
00:40 Authorities in Paris now estimate around 140 people killed in multiple attacks around the city. The bulk come from around 100 killed in the Bataclan theater attack.
00:30 France's national police has urged people not to spread rumors and disinformation via social media.
00:25 The French Football Federation has said it has canceled all events for France's national soccer team until further notice. Police sources confirm that a suicide bomber had detonated his vest outside the Stade de France during Friday's friendly match between Germany and France.
00:25 French police describe "carnage" inside Bataclan concert hall where US rock band Eagles of Death Metal had been performing to a sold-out audience. Sources told AP that attackers had fired their guns and thrown explosives into the crowd.
00:21 French President Francois Hollande has canceled his trip to Turkey for the G-20 summit on Saturday.
00:19 Police say around 100 people have been found dead inside the Bataclan concert venue, AFP reports. Three suspected attackers were killed after police storm concert hall. This likely triples the earlier estimated death toll.
00:05 BBC Europe Editor: The French government has assumed sweeping powers following declaration of state of emergency.
23:58 The New York City Police Department says it has gone on heightened alert and deployed officers to protect French government interests in the US city. "There is no known indication that the attack has any nexus to New York City," the police agency said in a statement.
23:54 BFM-TV says hostage crisis Bataclan concert hall is over. Police have killed two suspected gunmen.
23:52 Authorities are downgrading the death toll to "at least 39" killed.
23:49 Reaction from NATO Secretary General Jens Stoltenberg:
23:48 Moscow has condemned the "hateful" string of attacks and "inhuman murders" of scores of people, Russian Presidency spokesman Dmitry Peskov has said.
23:39 UN chief Ban ki-moon has released a statement: "The secretary-general condemns the despicable terrorist attacks carried out today in various locations in and around Paris," according to a statement from his spokesman. "The secretary-general extends his deepest condolences to the families of the victims and wishes a speedy recovery to those injured. He stands with the government and people of France."
23:34 French police are reportedly storming that Bataclan concert hall where gunmen have killed scores of people and taken hostages, AFP reports.
23:33 US Department of Defense says it's closely monitoring situation. US State Department says US embassy in Paris is trying to account for US citizens in the French capital.
23:31 French authorities have ordered all schools and universities in Paris region to be closed, Reuters reports.
23:30 AFP quotes security sources saying violent attacks reported in at least seven locations.
23:26 Parisians are using the Twitter hashtag #PorteOuverte to offer shelter to people caught outside on the street as chaos grips capital.
23:23 AP calling attacks "the deadliest to hit Paris since World War II."
23:21 Reuters reports that 40 people dead, 60 wounded, according to French police.
23:19 AP reports that French police have confirmed two separate suicide attacks, one bombing near Paris stadium.
23:15 German Chancellor Angela Merkel says she's "profoundly shocked" by attacks.
23:13 Germany soccer coach Joachim Loew said: "We're all shaken and shocked." "For me personally, the game and the sport loses importance. We're at a loss. We don't know what to do," he added.
23:11 AFP reports that one of the explosions outside the soccer stadium was a suicide attack.
23:09 Radio reporter Julien Pearce tells CNN from an apartment outside the theater that many people are hiding inside the Bataclan theater. Says he witnessed more than 10 minutes of shooting as people tried to take cover from assault rifle-wielding gunmen. Says the attackers said nothing, just shot and killed people in cold blood. At least 20 people dead, he said. "It was a bloodbath." Police are still outside the theater, he said. Many people remain trapped inside.
23:00 US President Barack Obama said: "The situation is still unfolding. I have chosen not to call President Hollande at this time ... I am confident I will be in direct communications with him in the next few days."
22:56 Hollande says France has declared a state of emergency. He has asked the public to cooperate with security forces during "unprecedented terrorist attacks underway in Paris."
22:55 French President Francois Hollande is delivering a live television address. He says borders are being sealed to prevent further attacks.
22:47 The English Football Association (FA) says it will review whether Tuesday's match between England and France will go ahead in London as planned. "The FA obviously sends its deep condolences to the victims of this tragic event and we will liaise with the French Federation this weekend at the appropriate time," the FA said in a statement.

22:46 European Commission President Jean-Claude Juncker says he's "deeply shocked" by Paris attacks.
22:41 The White House has said US President Barack Obama will deliver a statement at 22:45 UTC.
22:40 AFP reports that France's cabinet ministers are convening an emergency meeting.
22:25 Reuters says that US security officials believe the series of attacks were likely coordinated, based on initial reports.
22:24 The Associated Press reports at least 100 hostages at the Bataclan theater.
22:23 British Prime Minister David Cameron: "Our thoughts and prayers are with the French people. We will do whatever we can to help."
22:21 Reuters reports death toll rising to at least 40, based on reports on French channel BFM TV.
22:20 The AFP news agency reports British Prime Minister Cameron "shocked" by news of attacks in Paris.
22:18 Fifteen of the victims were killed at the Bataclan concert hall in eastern Paris, police told the AFP news agency. A hostage crisis is ongoing at the venue.
22:16 The Associated Press says that US Homeland Security Department officials are monitoring the attacks in Paris. At present, no credible threat against the United States has been detected.
22:15 The Associated Press reports: Around 100 hostages taken at Paris theater; 35 dead.
jar,ss,rc/cmk (AP, AFP, Reuters, dpa)