Israel's prison service said it released Ahed Tamimi on Sunday morning after serving almost eight months in prison for assaulting Israeli soldiers. Supporters in her family's West Bank village of Nabi Saleh welcomed home the teen with banners and Palestinian flags.
Tamimi had been filmed assaulting Israeli soldiers in December 2017 and was arrested a few days afterwards. She accepted an eight-month prison sentence in May as part of a plea deal and was released early for administrative reasons at the discretion of Israel's prison service. Her mother Nariman, who was also imprisoned over the incident, was released at the same time.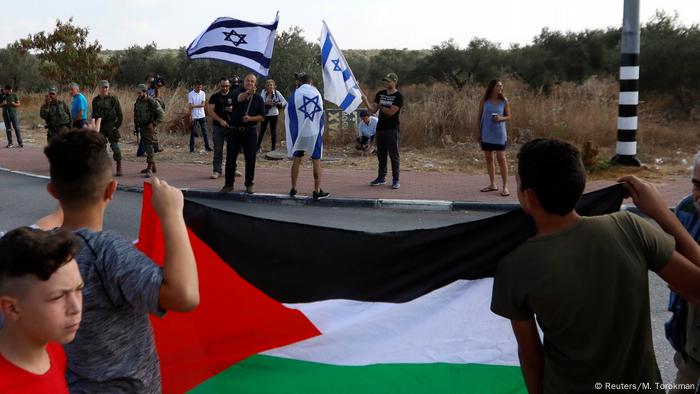 There was slight tension at the Rantis checkpoint in the West Bank before Tamimi's arrival
Protest history
"I have been longing for this moment because I missed them a lot," Tamimi's father Bassem told German news agency DPA ahead of her release on Thursday. Baseem, a prominent activist promoting boycotting of Israel, said his family is seeking "to continue normal life" and has stopped the weekly anti-occupation protests in Nabi Saleh where confrontations with Israeli soldiers are common. The weekly demonstrations have been held since 2009 against restrictions on Palestinian access to land due to Jewish settlers in the area.
Tamimi is well-known for her protests against the Israel Defense Forces and is considered by many Palestinians as somewhat of a protest icon.
When she was only a child, a photograph of her standing up to Israeli soldiers earned Tamimi an invitation to meet then-Turkish Prime Minister Recep Tayyip Erdogan. Then in 2015, a picture of the girl biting the hand of an Israeli soldier trying to arrest her brother became a symbolic photo shared widely around the world. In Israel, she is seen by many as either as a provocateur, an irritation or a threat to the military's deterrence policy.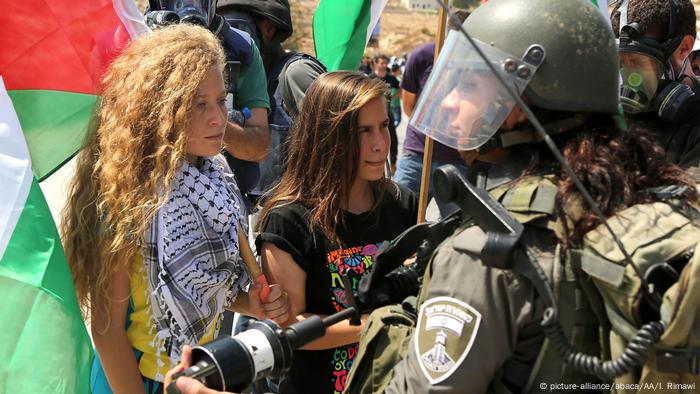 Ahed Tamimi during a 2015 protest against Jewish settlements in the West Bank village of Ramallah
Tamimi Mural
In a related incident, Israeli authorities on Saturday arrested two Italians and a Palestinian for painting Tamimi's now-familiar image on the Israeli security wall in the West Bank.
Tamimi was scheduled to speak at a press conference in Nabi Saleh at 4 pm on Sunday (1300 UTC).
kw/rc (AFP, DPA)
Each evening at 1830 UTC, DW's editors send out a selection of the day's hard news and quality feature journalism. You can sign up to receive it directly here.