In 2012, the Pakistani Taliban bombed a political rally in the northwestern city of Peshawar, killing eight people, including the former provincial minister Bashir Ahmed Bilour of the liberal Awami National Party (ANP). Bashir, an ally of former president Asif Ali Zardari, was known for his secular politics and an unwavering anti-Islamist stance.
Bashir was not the only ANP leader targeted by the Tehreek-e-Taliban Pakistan (TTP). The Pakistani branch of the militants has killed dozens of the party's leaders in the past seven or eight years. It won't be an exaggeration to say that the ANP has been the worst victim of Islamist insurgency in the restive Khyber Pakhtunkhwa province, which has historically been the party's stronghold even long before Pakistan's independence from the British in 1947.
So when Ghulam Ahmed Bilour, Bashir Ahmed Bilour's brother and former railway minister, announced in the country's National Assembly (lower house of parliament) Monday that he wanted to reward the families of the militants who attacked the French satirical magazine Charlie Hebdo's office last month, it came as a surprise to many in the West who were not expecting the leader of a liberal party to act like an Islamist.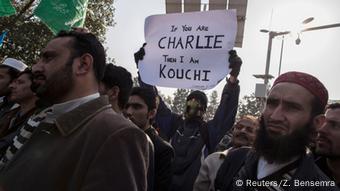 A number of religious groups in Pakistan hailed the Paris attackers as 'heroes'
But the former railway minister in the Pakistan People's Party (PPP)-led coalition government - which ruled until 2013 - is known for making political stunts to gain popularity. Bilour had originally announced a 100,000 USD bounty in September 2012 for anyone who would kill the makers of the alleged anti-Islam video, "Innocence of Muslims," produced in the US. Now the politician says he would give an extra 200,000 USD to anyone who would kill Charlie Hebdo's owner.
"Nobody takes Bilour seriously. The only reason why his offer made international headlines was because he belongs to the ANP and because he was a former minister. But we must keep in mind that the line between secular and Islamic parties in Pakistan has long been blurred," Abdul Agha, an Islamabad-based independent journalist, told DW.
Blurring lines
It's not just Agha, a number of analysts believe that secular politics is no more an option in Pakistan, and even parties like the ANP and the PPP have to resort to Islamist rhetoric to appease the public. Despite the fact that the attack on Charlie Hebdo's Paris office was condemned by Prime Minister Nawaz Sharif's government, the issue is extremely sensitive in the Islamic Republic and the country's politicians are very careful about commenting on the issue.
On January 16, the South Asian country's religious parties observed the "Black Day" to condemn the French satirical magazine's decision to publish Prophet Muhammad's caricatures. On the morning of January 7, Islamic extremists attacked the Paris-based journal, killing 12 people in its office, in what the France-based perpetrators said was a retaliation against Charlie Hebdo's previous "blasphemous" cartoons.
Violence and rationality
One of Pakistan's most respected cartoonists, Feica, told DW that extremism had grown so rapidly and so intensely in Pakistan over the years that no politician could afford to say anything against issues related to blasphemy.
"Bilour is a corrupt person and we all know that. But we must not forget that the Islamists have immense power in the Khyber Pakhtunkhwa province, and no one can dare say a word against them. Also, this is not the ANP of its founder, Bacha Khan. The party is no longer liberal or secular, therefore I am not surprised that Bilour offered a reward for the relatives of Charlie Hebdo attackers," said Feica.
Feica added that people in Pakistan had no idea about what the Charlie Hebdo caricatures were about: "The cartoons are the depiction of what the Islamist extremists are doing in different parts of the world; they don't represent the Prophet, they can't represent him because nobody knows what he looked like. They show our times. So there should be a sensible response to it, and not the one that comes from people like Bilour."
Pakistani reactions to any "insult" to Prophet Muhammad or Islam have usually been violent and hostile. For instance, vociferous protests erupted in the South Asian nation against "Innocence of Muslims" when it was uploaded on YouTube by a US resident of Egyptian descent in July 2012. Religious groups torched cinemas and cars, looted banks and shops, and at least ten people were killed during the clashes that followed.
On January 16, a protest organized by the Jamaat-i-Islami party's student wing outside the French Consulate turned violent as protesters clashed with the police in the southern city of Karachi. Security forces used tear gas and water cannons to push back the angry mob. A number of protesters and reporters, including an AFP photographer, were shot and, according to unconfirmed reports, at least two people were killed.
Freedom of speech and hypocrisy
On January 15, Pakistan's parliament passed a unanimous resolution condemning the publication of Prophet Muhammad's cartoons.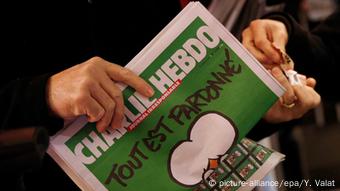 Charlie Hebdo's post-attack edition places a cartoon of Muhammad on the front page
Shahan Zaidi, an artist in Karachi, believes that many Pakistanis are extremely hypocritical in their attitudes and reactions towards the West.
"We have double standards on almost every thing. Religion is no different," he underlined.
Pakistan's rights groups say the Islamic country's religious minorities face social and legal discrimination and have almost no rights when it comes to freedom of expression. The liberal sections point out that the country's clerics deliver regular sermons against Christians and Jews, allege that their holy books are forged, but react violently when an individual or a group in the West say a word against their religion.
But Ali Hassan, a Pakistani writer, told DW it would be unfair to single out Muslims "as overly sensitive communities" while keeping religion in general out of the question. "Islam is in a particularly vulnerable point of the arc in present times. Pakistani Islam experiences more elaborate anxieties, and therefore acts out more, compared to other Islams because of our national anxieties," Hassan said.