A total of 265 people have accused former gymnastics doctor Larry Nassar of abuse, a judge said at the start of Nassar's final sentencing hearing in Michigan on Wednesday.
"We have over 265 identified victims and an infinite number of victims in the state, in the country, and all over the world," Judge Janice Cunningham said.
Sixty-five women and girls are set to speak over the next few days as the court considers a third prison sentence for Nassar for molesting gymnasts at an elite Michigan club.
"You are the most vile, disgusting creature I have ever met," said Katherine Ebert, who was a gymnast from the age of 5 to 18 and started seeing Nassar at 15. "There are black holes in my memory that come back as nightmares or flashbacks, not wanting to believe they're true."
Read more: Olympic champ Simone Biles: I too was abused by team doctor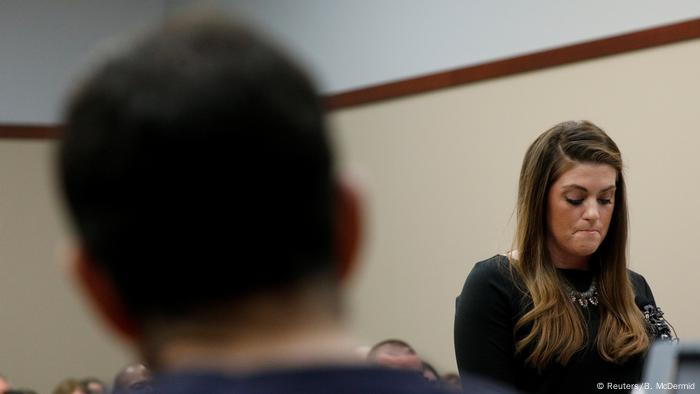 Over 150 victims gave statements at a second sentencing hearing last week
'Death warrant'
Nassar received up to 175 years in prison after a judge heard statements from more than 150 women and girls during a sentencing hearing last week.
Judge Rosemarie Aquilina said she had signed Nassar's "death warrant" after announcing the sentence.
The 54-year-old man admitted in November to sexually abusing patients under the guise of medical treatment.
A federal court sentenced him to 60 years in prison for possession of child pornography in December.
Read more: Disgraced Team USA Gymnastics doctor sentenced to 175 years for sexual abuse
USA Gymnastics leaders resign
In the wake of the charges against Nassar, the entire director's board of USA Gymnastics, the sport's governing body, officially resigned on Wednesday.
The US Olympic Committee had threatened to terminate the USA Gymnastics' governing authority if the directors did not resign by Wednesday.
In response to the Nassar revelations, the US Senate passed a bill Wednesday to require amateur athletic organizations to quickly report abuse claims to police.
Read more: USA Gymnastics board to resign after sex abuse scandal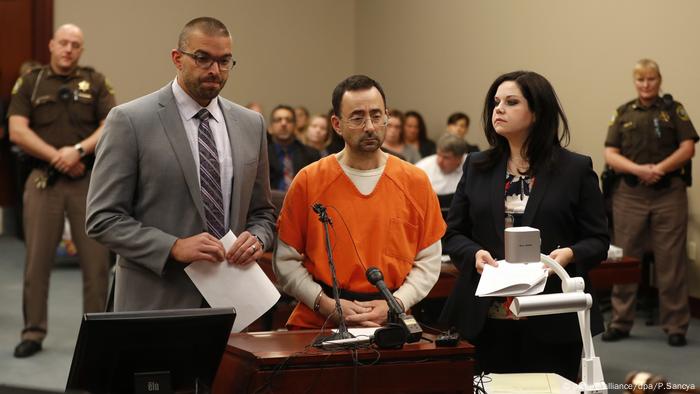 The 54-year-old pleaded guilty to abuse charges in November
amp/sms (AP, AFP)