US Olympic Committee (USOC) Chief Executive Officer Scott Blackmun had called on the board of USA Gymnastics (USAG) to resign by next Wednesday following the conviction of former national team doctor Larry Nassar after more than 140 women accused him of sexual abuse.
In response to a question on the board's position on Friday, spokeswoman Leslie King wrote in an email: "USA Gymnastics will comply with the USOC requirements."
Five USAG directors had resigned in the immediate aftermath of Nassar's conviction. USOC had threatened to remove USAG's authority to run the sport if the other 16 directors failed to step down.
Blackmun also outlined six steps for reform of USA Gymnastics.
"While the USOC encourages USAG to think and act broadly on reforming its culture, we also believe that reform must start with an entirely new board," Blackmun wrote in a letter to USA Gymnastics' board.
USOC called for an investigation by an "independent third party to examine how an abuse of this proportioncould have gone undetected for so long."
Broader investigations
Some of the gymnasts who survived the abuse said they would continue their work to bring the ruling sports bodies to account.
Nassar worked for USAG for four Olympic Games but the allegations only came to light in 2016.
Olympic medalist Aly Raisman said in an interview with ABC's "The View" that "Everyone stood up for him." She added: "My work, and the army of survivors, we're not done yet. We still have to hold these organizations accountable."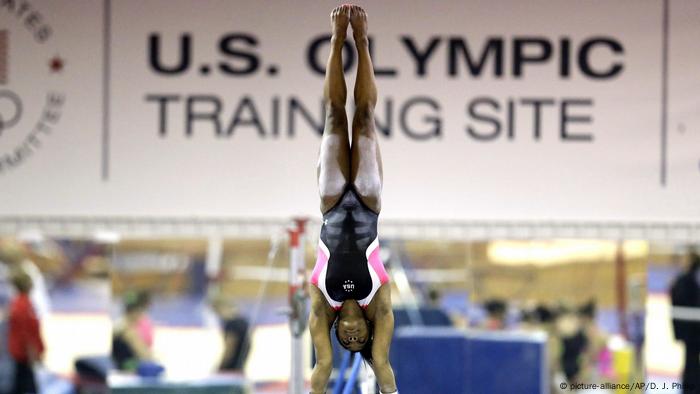 US gymnast Simone Biles training at the Texas training center in 2015 where she was abused by the convicted doctor.
Congressional hearings
The US House of Representatives, Senate and the Department of Education are opening investigations into possible sexual abuse in sports. The House Energy and Commerce Committee is to hold a hearing on the Nassar case and into sexual abuse reports in USA Swimming and taekwondo.
"The abhorrent abuses associated with Dr. Nassar's case and the allegations by US Taekwondo athletics and US swimmers are disgusting and outrageous, and raise serious concerns about protecting athletes from abuse and mistreatment in organized sports," said Representative Greg Walden, the House committee chairman. "These organizations must have mechanisms in place to ensure complete oversight and prevent such abuses from occurring. As we move forward in gathering the facts, this committee intends to hold a hearing in order to investigate these critical issues further."
Michigan State University
Students at Michigan State University planned on Friday to gather for a "March for Survivors and Change." The students wrote: "It is clear there are those in places of power, including on the MSU Board of Trustees, who failed to provide support to the student body and to the victims of Nassar's abuse."
Nassar had been a Michigan State sports physician from 1997 to 2016.
Michigan Attorney General Bill Schuette is to conduct a "review" of Michigan State. US Education Secretary Betsy DeVos, whose department will also investigate the university commented: "What happened at Michigan State is abhorrent. It cannot ever happen again." The school's sports director, Mark Hollis, retired on Friday, two days after the school's president, Lou Anna Simon, stepped down.
USA Gymnastics, the US Olympic Committee and Michigan State have all denied wrongdoing. USAG said it reported the sexual abuse allegations to authorities when it learned about them and also denied allegations of a cover-up.
jm/sms (Reuters, AP)