Four-time Olympic gold medalist Simone Biles on Monday joined a list of several high profile athletes who have gone public with sex abuse allegations against the former USA Gymnastics team doctor.
"I too am one of the many survivors that was sexually abused by Larry Nassar," she wrote in a statement posted on Twitter."Please believe me when I say it was a lot harder to first speak those words out loud than it is now to put them on paper.
Read more: US Gymnastics doctor pleads guilty to sexual misconduct charges
Nasser, who worked as the US national gymnastics team's physician for more than two decades, was jailed for 60 years in December on child pornography charges.
The 54-year-old is facing another 40 to 125 years in prison after pleading guilty to sexually assaulting seven young athletes during medical exams. He is expected to be sentenced over those offenses later this month.
Read more: Gold-medal-winning gymnast Tatiana Gutsu adds voice to #MeToo campaign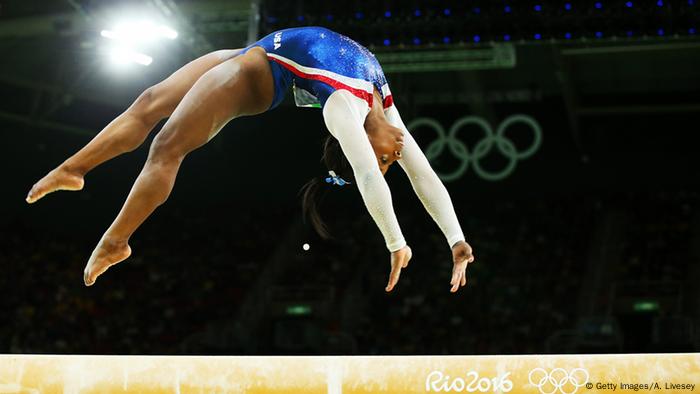 Simone Biles won five medals at the Rio Oympics in 2016
'I'm not afraid anymore'
In her Twitter statement, Biles described how she had struggled with her decision to speak out since news of Nasser's crimes broke.
"Most of you know me as a happy, giggly, and energetic girl," the 20-year-old champion gymnast wrote.
"But lately I've felt a bit broken and the more I try to shut off the voice in my head the louder it screams. I am not afraid to tell my story anymore."
She called Nasser's behavior "completely unacceptable, disgusting, and abusive, especially from someone whom I was told to trust."
"It is not normal to receive any type of treatment from a trusted team physician and refer to it horrifyingly as the 'special' treatment," she wrote.
Read more: How people are saying #MeToo around the world
More than 100 victims
Biles is one of more than 100 women and girls, including other members of the American Olympic team, who have accused Nasser of abuse. Six-time Olympic medalist Aly Raisman, 2012 all-around champion Gabby Douglas and two-time Olympic medalist McKayla Maroney have all spoken out about the ex-physician's misconduct.
Almost all of Nasser's victims are expected to testify against him this week as he is sentenced.
Biles won four gold medals and a bronze at the 2016 Rio Olympics. She is currently training for the US Classic gymnastics meet in July, and says she hopes to compete in the 2020 Tokyo Olympic Games.
The Nasser abuse scandal prompted USA Gymnastics chief Steve Penny to step down in March last year. The body also adopted a "safe sport policy" that requires mandatory reporting of suspicions of sexual abuse, but some critics argue further changes are needed.
nm/jm (Reuters, AP, AFP, dpa)