Longtime USA Gymnastics team doctor Larry Nassar was sentenced on Wednesday to 40 to 175 years in prison for sexually abusing scores of female gymnasts under the guise of medical treatment.
The sentence followed an extraordinary seven-day hearing that saw scores of Larry Nassar's victims confront him face-to-face in a Michigan courtroom.
"I've just signed your death warrant," Ingham County Circuit Court Judge Rosemarie Aquilina told Nassar in imposing the penalty.
"It is my honor and privilege to sentence you. You do not deserve to walk outside a prison ever again. You have done nothing to control those urges and anywhere you walk, destruction will occur to those most vulnerable."
Dozens of victims
The 54-year-old sports doctor pleaded guilty in November to seven counts of first-degree sexual assault in Ingham County, as well as three additional charges in Eaton County, where he will be sentenced next week.
Nassar, who worked as the US national gymnastics team's physician for more than two decades, is already serving a 60-year sentence for child pornography convictions.
More than 150 women and girls, including four-time Olympic gold medalist Simone Biles and six-time Olympic medalist Aly Raisman, have accused Nassar of abuse.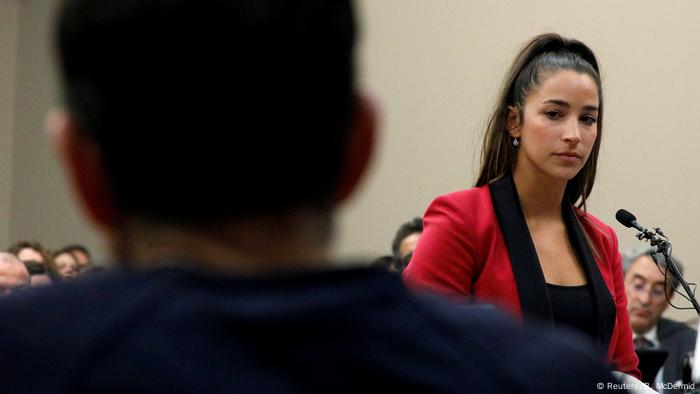 More than 150 women and girls, including Olympic champion Aly Raisman, testified in the Michigan court
Searing testimonies
Raisman — one of the so-called "Fierce Five" 2012 Olympic gold medal-winning squad — came up with a powerful testimony against Nassar. She also criticized the sporting officials for seemingly turning a blind eye to his misconduct.
"Larry, you do realize now that we, this group of women you so heartlessly abused over such a long a period of time, are now a force and you are nothing," said the 23-year-old.
Read more: 100 days of #MeToo
"The tables have turned, Larry. We are here, we have our voices, and we are not going anywhere," Raisman said.
Nassar's former babysitter, Kyle Stephens, told the court how he abused her from age six to age 12 at her family home.
"Perhaps you have figured it out by now but little girls don't stay little forever," she told the 54-year-old. "They grow into strong women that return to destroy your world."
'Left scars'
Olympian McKayla Maroney recounted how during a Tokyo trip Nassar gave her a sleeping pill and she awoke to find him molesting her. She was 15.
"I thought I was going to die that night," Maroney said. "He abused my trust. He abused my body. And left scars on my psyche that may never go away."
Nassar apologized to his victims before the sentencing, telling them, "I will carry your words with me for the rest of my days."
But judge Aquilina scoffed at the apology, dismissing it as insincere. She read out a letter he'd written days before the sentencing hearing where he said the "stories are being fabricated" by victims.
"This letter tells me you still do not own what you did," Aquilina said, after angrily tossing the sheet of paper aside. "I wouldn't send my dogs to you, sir."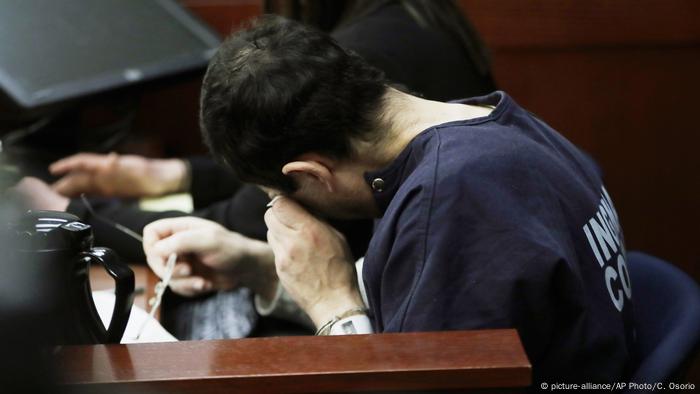 The judge refused to believe that Nassar was remorseful for his actions
ap/ls (Reuters, AP)