Karl Lagerfeld's set designs for his Chanel runway shows are nothing short of spectacular. In the past, the German-born designer has recreated an airport terminal, a supermarket, an ancient Greek temple and even a space shuttle launching site in Grand Palais, an exhibition hall and museum complex in Paris, where Chanel usually stages its shows.
However, the Fall/Winter 2018 catwalk event , which took place on Tuesday, is now being criticized by the France Nature Environnement group, who accused Lagerfeld of "heresy" for felling century-old trees for the show.
The tons of dead leaves that covered the défilé and nine tall mossy oaks planted down the middle of the vast nave reflected the mood of the collection that focused on autumnal colors with contrasting accessories in neon hues and with crystal embroideries.
Read more: How men's fashion reflects a 'fake news' and #MeToo world
The activists said in the statement that the luxury brand is trying to "give itself a more green image while completely divorced from the reality of protecting nature." They added that Chanel had failed at proving whatever the show's point was. "Nature is not chopping down trees in a forest, putting them up for a few hours for a show and then throwing them into a skip."
Hated by activists, loved by fashion journalists
Representatives of the company swiftly replied late Tuesday, denying that the oak and poplar trees Chanel had sourced from a forest in western France were over a century old but added that "in buying the trees, Chanel also promised to replant 100 new oak trees in the heart of the same forest."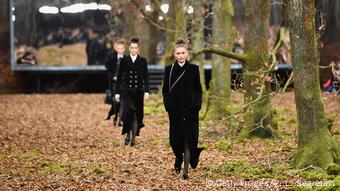 The forest-like set design at Chanel's Fall/Winter 2018 runway
Cut trees were also used to make rows of benches for the many invited celebrities and clients, including Hollywood star Keira Knightley, British pop singer Lily Allen and former French first lady Carla Bruni Sarkozy.
South Korean star Hoyeon Jung and British model and activist Adwoa Aboah also walked in the 80s-look show. The set design and the collection were unanimously praised by fashion journalists, with Harper's Bazaar saying that the "runway may be Lagerfeld's best yet."
Read more: New generation of climate entrepreneurs: 10 young innovators tackling climate change
Chanel is no stranger to controversies
It is not the first time the traditional French maker of haute couture, double C bags and tweed costumes has come under fire. In 2013, Karl Lagerfeld was accused of cultural appropriation when he featured Native American costumes and symbols in his "Paris-Dallas" collection. Last season, the brand was criticized for sending models down the runway in garments made of PVC at a time when plastic pollution is hitting the headlines.
Read more: Karl Lagerfeld evokes Holocaust to bash Germany's Angela Merkel on refugees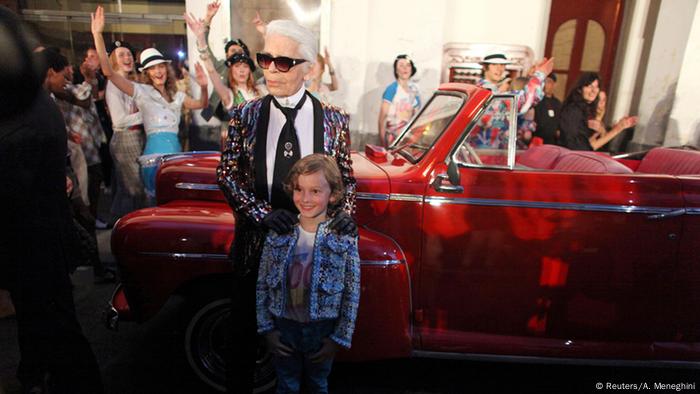 Karl Lagerfeld was also critized for staging a runway show in the streets of Havana, Cuba in 2016
Chanel was established in 1910 by Gabrielle "Coco" Chanel, whose designs defined the fashion of the 1920s and 1930s. Partially due to Chanel's connections with Nazi officials during the WW2 and partially for lack of innovation in her designs, Chanel's influence on fashion declined greatly after the war.
French businessmen Alain and Gérard Wertheimers took over the brand in the 1970s and hired Karl Lagerfeld in 1983 to reboot the name. Under Lagerfeld's reign, Chanel has become one of the most revered names in fashion.
jt/ct (AFP, AP)