A Siberian wind — the so-called "Beast from the East" — rolled across Europe this week with temperatures dipping to -20 degrees Celsius (-4 Fahrenheit) in many places. Snow fell all across the continent.
It fell on cities unaccustomed to snow, like Rome and Pristina (pictured above). And it fell in record amounts on Moscow, which is, of course, no stranger to snow. It fell on mountains, fields, forests and roads.
As the first flurries carpeted countries such as Britain and Ireland, which generally do not see much snowfall, people were warned to stay indoors, schools and businesses closed, and the outside world took on a preternatural silence.
Those few who did brave the blizzards, snapped photos of deserted landscapes from fields to concrete streets rendered beautiful by a blanket of white powder.
Hardier souls, both children and adults, built snowmen and sledded down hillsides in bathtubs and on the metal trays. The snow has an ability to bring out the child in even the most earnest.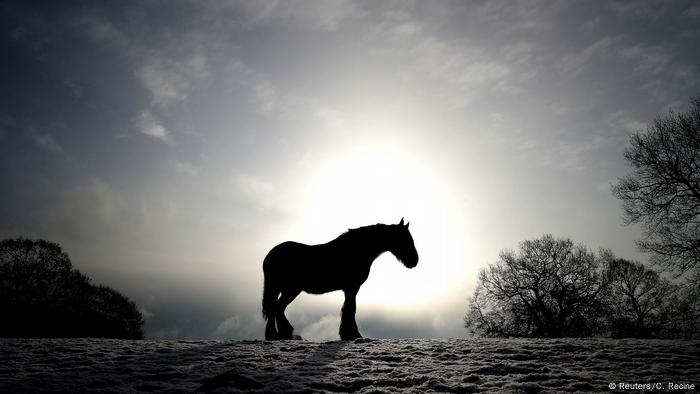 A horse stands in a snow-covered field in England. The UK was plunged into snow-related chaos following heavy blizzards
A snowy harbinger?
Despite the magic and beauty of it all, however, the snow and freezing temperatures can be dangerous. Those without a home, in many instances, are left to bear the chill outdoors. The Beast from the East has claimed at least 20 lives across Europe. But this particular cold snap may also be a sign of some greater disruption in the climate system.
Read more: Understanding the polar vortex
Read more: Arctic warmer than much of Europe is a worrying sign of climate change
Read more: Record snowfall hits Moscow, downing thousands of trees
While the deep freeze froze Europe, northernmost Greenland was practically basking in the warmth of 6 degrees above zero — highly unusual for this time of year. Arctic sea ice has also been melting at record rates.
Scientists believe the unusual weather could be related to global warming, which is weakening the polar vortex. The vortex locks cold air into the Arctic, DW reported this week.
Do you have a picture of a beautiful landscape or something amazing in nature that you want to share with our readers? If so, you can send it to us using the upload tool on our website, or by emailing us at ecoafrica@dw.com. We look forward to hearing from you.