All around the globe, NGOs and citizens took up the call, responding to the plight of the world's climate. On the streets of New York, London, Berlin, Melbourne, hundreds of thousand joined marches on Sunday (21.09.2014) to show it's high time to act in the fight against climate change - and to voice their anger about how little their governments are doing to tackle it.
By inviting the world's leaders to a special summit, outside the usual UN negotiating framework, UN Secretary-General Ban Ki-moon has drawn attention to the significance of climate policy for a future in which the global population is growing even faster than expected and where we are rapidly devouring the limited resources of our planet.
Climate policy takes center stage
At least for a few days, the UN secretary general has fetched climate change out of the dark chambers where negotiators haggle over minute details of formulation, and set it center stage, at the UN headquarters in New York. Politics and business are to join forces and demonstrate that they have indeed received the message about the dangers of climate change - and that there are solutions, and they are ready and willing to put them into practice now.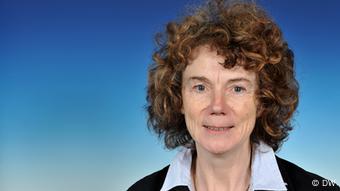 Action is needed now, says DW's climate correspondent Irene Quaile
There has been no shortage of warning signs. The latest figures show we are blowing more and more CO2 into the atmosphere. The latest report by the Intergovernmental Panel on Climate Change (IPCC) was scary enough. The two-degree target is shifting out of reach. This summer has been the warmest since records began in 1880.
Experts are warning of extreme weather events, famine, drought and rising sea levels. In the poorest regions of the world, people are in danger of losing their livelihoods. Conflict over scarce resources and waves of climate refugees are already on the horizon.
The only way forward is to abandon fossil fuels and speed up the switch to renewable energy to reduce greenhouse gas emissions. Technology is not the problem. A study published this week says the only thing lacking for a global energy turnaround is political will. And that must not be compromised by pressure from fossil-fuel industries.
Missed opportunity
Some 120 heads of state and government have taken up the UN chief's invitation to gather in New York. However, German Chancellor Angela Merkel is not amongst them.
It's not only NGOs that have said that's a mistake. Germany is having difficulties achieving its own ambitious energy targets. The green energy revolution has been slowed down - New York would have been a chance for Merkel to demonstrate her personal commitment to the climate cause and help Germany resume its role among climate leaders.
Only a few of the major industrialized countries are not sending their head of state or government. Germany is among countries such as Russia, Australia and Canada, which are notorious for their negative stances on climate action.
Ban Ki-moon asked political and business leaders to "accelerate political momentum" and announce "significant and substantial initiatives." But above all, this New York meeting is designed as a high-profile, headline-snatching opportunity to put the spotlight on the world's warming climate. Ban Ki-moon is handing the world's politicians an opportunity on a silver plate to demonstrate internationally and to voters back home that they are taking action on climate change. When the curtain opens, they can step on stage and show they know what's at stake and are ready and able to deal with it.
"There is no plan B for the world's climate, because we don't have a planet B," Ban Ki-moon said ahead of the event. The eyes of the world are now on New York. People need an impressive signal that "business as usual" is leading to climate catastrophe - and that the world's political and industrial leaders are willing and able to make sure that doesn't happen.