There are three things to bear in mind when dealing with Donald Trump. The first is that he doesn't distinguish between running a casino and a country. The second is that the only currency he has a vested interest in is his approval rating. The third is that he has only one long-term goal — to be re-elected.
The last few weeks have shown that negotiating with the US president doesn't work. Depending on who you listen to, his country is now either on the brink of or already engaged in a trade war with China. Meanwhile, the tit-for-tat tariff spats continue with the European Union, Russia and Canada.
The reason that attempts at diplomacy continue to fail is that the usual rules don't apply to Donald Trump. Unlike most democratically elected leaders, he doesn't feel bound by the principles of propriety or precedent. He doesn't care about children being torn from their parents at the Mexican border, or the consequences of a slowdown in global growth.
The only way he'll believe these things matter is if he can be convinced that they're connected to at least one of the three things he does care about: his business, his image or his chances of re-election.
Let's begin with the principle that underlies Trump's attitude to both business and politics: keep it in the family. Over the years, whether he's been running a chain of casinos or a country, his relatives have rarely been far from his side.
Consider the trajectory of his daughter Ivanka. Twenty years ago, as a precocious fifteen-year-old, she co-hosted Miss Teen USA, a pageant her father had recently acquired. Now she advises him on how to manage the world's most powerful economy.
The lesson to learn is that if you want to change the president's mind, change that of his relatives first. Trump's recent U-turn on separating children from their parents at the border appears to have been influenced by conversations he had with his wife and daughter. In a president devoid of empathy, one must extract it from the sources closest to him.
The second thing that keeps Donald Trump awake at night is wondering how many people are reading about him in the New York Times and how they might be persuaded to watch Fox News instead. You need only scroll through his Tweets on any given day to realize that the most powerful man in the world is powerless in the face of his need for approval.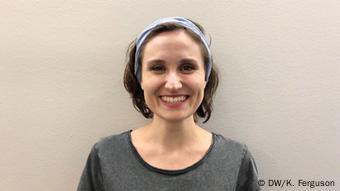 DW's Kate Ferguson
If you really want to get through to the president, don't bother appealing on behalf of the tired, the poor or even the huddled masses yearning to breathe free. Attack his ego instead.
The city of London has recognized this in its decision to allow a giant orange blimp depicting Trump as a nappy-wearing baby to fly over the city during his visit later this week.
Leo Murray, the activist behind the protest action, described the American president as "a man who lacks the capacity for moral shame," arguing that to get through to Trump, "you have to talk to him in a language he understands: personal insults."
So far, the only politician who has done so is the North Korean leader, Kim Jong-un, who famously called Trump a "mentally deranged dotard." A few months later, they were sitting at a table together, watching a movie trailer the American president had commissioned to encourage his North Korean counterpart to embrace a new era of peace. Their relationship appears shaky again, but they could well be a few insults away from another reconciliation.
When Donald Trump isn't worrying about falling out with his family, or giant blimps flying over London, he is thinking about his re-election in 2020. It's not that he wants another four years in the White House.
In fact, if there were some way of blaming Hillary Clinton for his inability to run again, he'd be happy to avoid it and return to his game of golf. But the problem is that there is nothing that endorses Trump's binary worldview as effectively as an election, where there are winners and losers, people who back him and those who don't, and states that count and those that don't.
The US president can resist alcohol and cigarettes, but he is addicted to public validation, whether as the host in The Apprentice, or as the occupant of the White House.
To ensure Trump is not re-elected in 2020, other countries must do their bit to persuade the people who previously voted for him not to make the same mistake again.
Reeling off data is unlikely to do the trick. Instead, they need to go directly to the source. China is already targeting one core voter base with retaliatory tariffs: farmers in the Midwest. Beijing's levy on a host of agricultural goods, including soybeans, is likely to disrupt the farming industry in swing states like Ohio, which Trump unexpectedly claimed in 2016. Such measures should not only come in retaliation: They should form the basis of an internationally coordinated strategy of damage limitation.
It's time the world realized that the only way to restore dignity to the business of politics is to play Trump at his own game.