New York City just can't catch a break. After three months of coronavirus quarantine, during which normal life was out of the question, last week a curfew was imposed on the city. Governor Andrew Cuomo took the step after looting and rioting in the wake of the mostly peaceful demonstrations against racism and police brutality.
That was a heavy blow to New Yorkers. Even in the worst weeks of the coronavirus crisis, they were least been allowed to go outside whenever they wanted. Even if the curfew didn't begin till 8 p.m. stores were closed by 6, and the bike-sharing service Citi Bike, which many people had been using during the spring weather, stopped operating.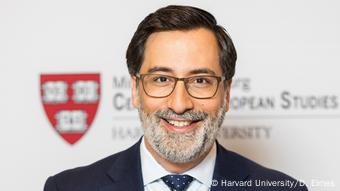 Alexander Görlach
When Cuomo announced phase one of gradually lifting the coronavirus lockdown on Monday, the curfew was also lifted. After all, the first day in a partially reopened New York shouldn't end at 6 p.m.
Poor hit hardest by COVID-19
Nowhere in the United States has the connection between COVID-19 and the demonstrations against racism and for equality been more clearly visible than in New York City. Many people from ethnic minorities have died in the city: blacks and Latinos. While Manhattan emptied and large numbers of wealthy white Americans fled to their houses on Long Island, the poor were standing in lines in front of city hospitals. At the height of the pandemic, some 1,000 people died daily in those hospitals. Clinical treatment for COVID-19 costs those who need it $15,000 (€13,220) — and that is not even all that much by US standards. But there are many people in the US who already face financial ruin if they have to pay a doctor's bill of $500.
The best news of last week came Sunday, it marked the first day since mid-March when no one in New York died of COVID-19. And, to make things better, the chance of becoming infected at the moment is very low: Only one person in 100,000 is currently carrying the virus. Still, no all-clear can be given: As soon as a second wave reaches the city, everything will change again.
In the meantime, however, nothing has been done to improve health care for Americans. On the contrary: The US president has launched into a new fight with the governors with whom he already bitterly clashed over the issue of managing the coronavirus pandemic. The White House has been surrounded by security fences and the president wanted to deploy 10,000 soldiers in Washington, DC, to quell protests. The mayor of Washington then had the words "Black Lives Matter" painted in huge yellow letters on a street leading to the White House.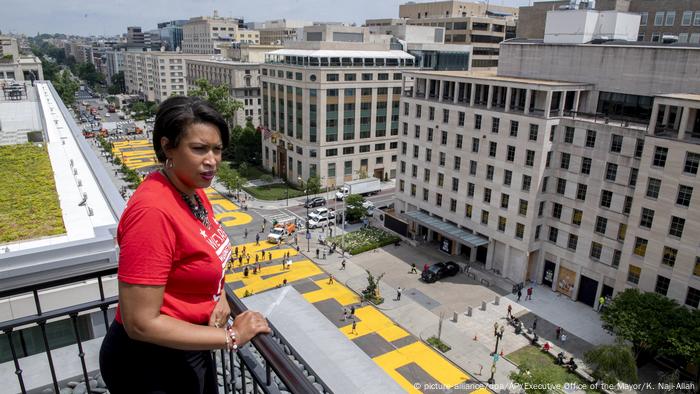 Washington's Mayor Muriel Bowser has supported the protests in highly visible fashion
Eyes only for the election
But Donald Trump is not at all interested in the country or the people living in it. His public appearances are geared only toward getting Republican voters to polling stations on November 3. Many observers say that this is exactly the way the elections will be won: not by convincing swing-state voters or first-time voters, but by mobilizing one's own base and keeping the people in it from staying at home on election day.
Joe Biden, Trump's challenger, has already received support from prominent Republicans who would rather see him as the next president than their party colleague Donald Trump.
COVID-19, racism and police brutality have divided the country in a way it hasn't been divided in a long time. The disastrous economic situation many Americans face doesn't make things better. Perhaps, however, optimism is justified and there is cause for hope that the movement against racism and for equality will change the country and catapult the great divider and would-be autocrat Trump out of the White House.
Alexander Görlach is a senior fellow with the Carnegie Council for Ethics in International Affairs and a senior research associate at the Cambridge Institute on Religion & International Studies. He has also held a number of scholarly and advisory positions at Harvard University. He holds doctorate degrees in comparative religion and linguistics and is a guest columnist for several publications, including The New York Times, Swiss daily Neue Zürcher Zeitung and business magazine Wirtschaftswoche.
Every evening, DW sends out a selection of the day's news and features. Sign up here.