Deutsche Bank CEO John Cryan is desperately looking for someone willing to buy Postbank. The Englishman recently told a group of investors he was sometimes even dreaming about a Chinese buyer. Thankfully, GermanEconomy Minister Sigmar Gabriel didn't hear this. He might have started to forge a European alliance to acquire Deutsche Bank's unloved daughter.
Just as he's doing now with his attempts to save Augsburg-based robot manufacturer Kuka from a Chinese takeover bid. Well, he himself puts it more cautiously: He would be happy, if there were a European alternative. Support for his stance even flows in from Brussels with Günther Oettinger, the German EU Commissioner, getting behind Gabriel. It's reached the point when you start rubbing your eyes and ask yourself what's going on.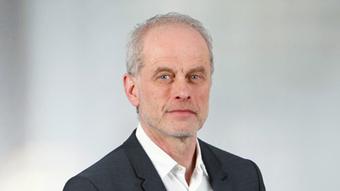 DW senior business editor Henrik Böhme
Unwanted meddling
Evidently, it bothered no one in Berlin when Chinese multinational Sany took over German medium-sized company Putzmeister some time ago. Owing to its concrete pumps, Putzmeister had become a hidden champion, a widely unknown world leader. The same when the Chinese snatched up forklift manufacturer Kion - no reaction. And why would there be? Takeovers, mergers, changes of ownership: That's all part of a free market economy. Business as usual.
But all of a sudden the alarm bells are ringing, as Kuka - a true gem of the German industry - might change hands. What are the Chinese up to? Suck out the know-how, copy the products and wave goodbye? Alright, Sigmar Gabriel, we've heard your warning. But please, let's leave it at that. Nothing can justify politicians meddling in companies' daily business. To calm Gabriel's nerves: Last year saw only eight Chinese companies take over or merge with German businesses. That's certainly not a lot.
Mutual openness
Only a few years back, in 2009, Kuka was in dire need of restructuring. US investor Guy Wyser-Pratte had bought into predecessor IWKA. Secretly, at first, and then openly. He forced the management to sell parts of the business. What remained was robot manufacturer Kuka, which was left reeling following the global financial crisis. Guy Wyser-Pratte, who is largely deemed a corporate raider in Germany, came under fire. But still Kuka managed to turn itself around and has been trailblazing a fourth industrial revolution ever since. And this must be what's giving Gabriel sleepless nights. He fears the Chinese could take over what many dub industry 4.0 - a field with Germany at the forefront. But that's unfounded.
One may want to point out that German firms can invest in Chinese companies as well at upcoming government talks. So far, they can only form joint ventures. After all, China strives to be recognized as a real market economy, which should entail mutual openness.
One final question: What's worse for a German business? Financial investors or the Chinese knocking on its door? Either way: German firms' popularity can only be a sign that companies here are doing many things right. At any rate, isolation is not the way forward.