"I couldn't have imagined this in my wildest dreams," admitted Christian Heidel after Schalke's 1-0 defeat in Freiburg on Tuesday made it five straight defeats for the Royal Blues.
But the sporting director shouldn't have to rely on visions in his sleep in order to see that Schalke's disastrous Bundesliga start is very real. After all, he's been here before.
It was only two years ago that the Heidel era in Gelsenkirchen spluttered out of the starting blocks as then-coach Markus Weinzierl oversaw five straight defeats before Schalke ultimately fought back to a barely respectable 10th-place finish.
"We thank the team for following us again in such great numbers this season," read the ironic banner from the traveling Schalke supporters in Ingolstadt on the final day of that season.
Those same supporters in the away end in Freiburg on Tuesday night displayed more patience, for which current coach Domenico Tedesco, speaking to them through the fence at fulltime, was thankful. They've not turned on him, and neither has the board – yet.
The isolated complaints after the first two defeats against Wolfsburg and Hertha Berlin could quite reasonably be dismissed as typically unreasonable in the emotional cauldron that is the blue side of the Ruhr.
Back then, it was too soon to speak of a crisis, but not anymore. Schalke may have hit the post twice against Freiburg and had a goal – correctly – ruled out for offside, but there can be no talk of bad luck after five straight defeats. It's time to ask questions, firstly of the personnel.
- Read more: Alarm bells as Schalke go from bad to worse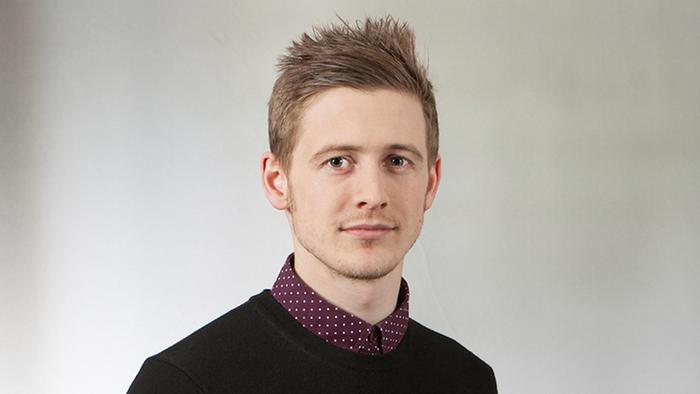 Wake up, Schalke! DW's Matt Ford explains what's going wrong in Gelsenkirchen
The players
Mark Uth arrived from Hoffenheim as a proven Bundesliga goalscorer but has so far been unable to tune in to the same wavelength as his teammates, including former Hoffenheim colleague Sebastian Rudy, who didn't even get off the bench in Freiburg. Guido Burgstaller did for the final 10 minutes as Schalke finished the game as they had started it: with a former Nuremberg striker up front – after Cedric Teuchert had made his debut.
Steven Skrzybski, who scored 14 goals for second-division Union Berlin last season, has struggled with injuries so far, but is Christian Heidel really convinced that the squad he has assembled has the quality to push on from last season's second-place finish and re-establish Schalke as a top-four Bundesliga side and Champions League regular?
The coach
Coaching prodigy Tedesco must also come under closer scrutiny. Keeping Erzgebirge Aue in the second tier was a good start and taking a defensively solid but unspectacular Schalke side to second represented laudable progress. His decision to switch from his favored back three to a back four in Freiburg appeared to pay off in the first half but can he construct a team with a coherent attacking threat? So far, the jury is out.
One area where the 33-year-old has so far proved adept is in man-management. It was his halftime team-talk that inspired Schalke to an infamous 4-4 draw away at archrivals Dortmund last season.
The mentality
The same could not be said of the Schalke players who took to the field in the second half in Freiburg, players who, having fallen behind, didn't look like they believed they could equalize. A psychological setback can quickly become a dangerous impediment. Schalke know this from 2016, and they're not the only ones.
Just down the road in Dortmund, fans still wince at memories of 2014-15 when Jürgen Klopp's side won only four of their first 19 games. And after guiding Gladbach to the Champions League in 2015, Lucien Favre resigned after starting the following season with five straight defeats. Just last year, Cologne produced the most spectacular collapse of all, failing to win any of their opening 16 games and plummeting into the second division.
These weren't dreams, Herr Heidel. It's time to wake up.