It's been just over a week since parents and friends stood at Düsseldorf airport waiting in vain for their loved ones to return from their trips to Barcelona. They didn't return. Instead, their dead bodies were recovered just a few days ago. Families in the German town of Haltern am See and other places have only just started trying to come to terms with something they will never be able to fully grasp.
German Interior Minister Thomas de Maiziere this week said the 150 passengers and crew members on Germanwings Flight 9525 died in what he described as an attack.
Maiziere also said security officials should have known a lot sooner who was actually on the plane. Security officials weren't sure whether there were any registered potential perpetrators on the plane, he said, adding that the passenger list didn't include nationalities for people from the Schengen area. "That," the interior minister told a German tabloid, "is a gigantic security risk." And he added that we may just have to consider reintroducing border controls in the Schengen area.
Don't abuse victims for political purposes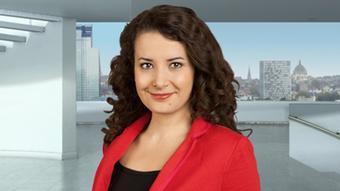 Nina Haase reports on European affairs for DW
Reintroducing border controls in Europe? What? That's wrong, Mr. minister! For two reasons: First, the people who had loved ones on that Germanwings plane knew who it was who didn't come home - without explicit mention of nationality on the passenger list. Don't abuse the victims of a plane crash. If you want to step up passenger surveillance for the sake of fighting "terrorism" - just say so. Only, in this case, it wasn't a terrorist who brought down the plane. It was, as far as we know, a copilot who had gone through what is deemed one of the world's best flight training courses, working for a well-respected German airline, albeit with suicidal tendencies. A lone wolf, if you will.
Second, border controls in the Schengen area were abolished for a reason 20 years ago. They were abolished in the majority of European countries because governments believed in the principle of free movement within Europe. Granted, not everybody adopted the principle. Great Britain, for example.
But as far as most other countries in Europe are concerned, those belonging to the 26-member Schengen area - the benefits still outweigh the risks. Every time I go somewhere, I love the fact that I can enjoy free travel within Europe. The lack of border controls to me means that the European Union is more than an economic marriage of convenience among countries. It means you can virtually hop on and off planes between countries such as Germany, France, Belgium, Slovenia and Denmark and feel at home wherever you go. No fuss, no bother. That's what the European Union should be all about: European citizens feeling part of a bigger project, moving on from the nation-state. French President Francois Hollande said in Berlin this week that in the Germanwings tragedy France and Germany were not two countries bound together in mourning. They were one.
Just remember what happened when Denmark briefly attempted to reintroduce border controls in 2011. There was an outcry in Europe. Under the new government, the country quickly abolished that move again, just a few months later. And why? If you need to, just look at it from a purely economic point of view: the Schengen rules greatly reduce the cost of border controls and greatly reduce the time it takes to move goods across Europe.
Let's not limit our freedoms
Understandably, after an incident as terrible as the Germanwings crash, many people have now been calling for swift political action. It was the same after the 9/11 attacks in the United States in 2001. Back then, as a consequence, cockpit doors on modern planes were equipped with a tight locking mechanism to keep perpetrators from the cabin area from entering. That, however, was precisely what would turn out to be the Germanwings passengers' undoing last week.
As far as the consequences from the Germanwings flight are concerned: we shouldn't let ourselves be rushed into limiting our freedoms - especially not for the sake of fighting terrorism. And please, Thomas de Maiziere, before you start the discussion on passenger lists, border controls, and potentially exchanging passenger name records with third countries, let the people in Haltern and other places lay their wreaths on the graves of their loved ones. Please.
Join the discussion and add your comments below.