Why make it easy when you can make it complicated? The Turkish government has opted for the complicated method. It has organized polling stations in 116 locations in 56 countries, instead of simply having people vote by mail. In Germany, voting in a first round on August 10, 2014, is possible over a period of four days (31.07.-03.08.2014) but only in seven cities. There are also polling stationsopen over a longer time at Turkish border crossings to give holidaymakers a chance to vote.
What's actually wrong with that? Everything has been decided formally and legally and it has been put into practice, one could argue. On the surface that all seems correct, but the devil is in the details, as the saying goes.
Erdogan wants to increase his power
Prime Minister Recep Tayyip Erdogan's calculus for retaining power is obvious: He wants to expand his leverage by assuming the country's highest office so that his critics and Turkey's democratic forces have even less air to breathe.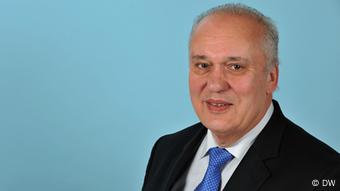 DW's Baha Güngör
He could then more easily suppress the many corruption allegations and abuse of power scandals. Additionally, there is the politicization of Islam, or - depending on your point of view - the Islamization of politics. Since 2002, under Erdogan's leadership, the Turkish people have increasingly internalized the prime minister's message to identify themselves by their religion.
The factor of religion has also significantly strengthened the self-confidence of the Turks living abroad, especially of the Turks in Germany. It helps them cope with the subjectively felt and objectively existing discrimination by the majority in everyday life.
The Turks abroad are not decisive
The votes cast abroad, however, will not play a significant role in the outcome of the presidential election. There are 53 million Turks eligible to vote and the 1,4 million Turks in Germany won't even tip the scales. The question is not whether Erdogan will win the election, but only by how much.
What's more, not many voters will go to the polling stations because they would have to travel hundreds of kilometers to reach the next polling station, unless, of course, the political parties organize convoys to the polling stations. Erdogan's ruling AKP, on the other hand, has plenty of experienced in it, as recently seen during his election campaign in Germany.
But on closer examination, the opportunity to vote is a farce and only serves to polish Erdogan's image. He will be able to brag that Turks abroad could also take part in Turkish democracy. Of course, here it should be mentioned that countlessTurkish governments before him should be ashamed that they never once in the past 40 years managed to do even that. They hardly ever cared about the Turks abroad.