The Swedish musician of Russian descent was born as Harry Gustaf Nikolaj Gädda on June 11, 1925 in Stockholm. Three years later, the family moved to Leipzig, Germany, where the boy's stepfather was cantor at a Russian Orthodox church.
Returning to Sweden, Gedda studied at the conservatory there and launched his career in 1951 at the Stockholm opera at age 25. His career spanned five decades, concluding in 2003 with his last recording, at the of age 77. He'd given his stage farewell six years earlier.
Not long after his debut, Nicolai Gedda was heard by the legendary record producer Walter Legge. It was the nascent era of the LP record, and with over 200 recordings to his credit, Nicolai Gedda was one of the most often recorded operatic singers in music history.
He was also to be heard on the world's major opera stages: in Milan and Paris, London and Salzburg, Vienna and New York.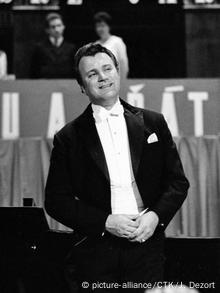 Gedda at the Prague Spring festival in 1967
Fluent tenor
Gifted with languages, he sang in French, Russian, German, Italian, English, Czech and Swedish. His voice was characterized by superb technique, beautiful timbre, control and musicality. It was in the French repertory and in operetta that Gedda stood out in particular, but he excelled in the most varied areas of the world of concert and opera.
Gedda was esteemed as a musical partner by the singer Maria Callas and the conductor Herbert von Karajan. The reliable and somewhat shy performer was known to have suffered from stage fright, which didn't prevent him from being one of the great voices of the 20th century.