The tangled mass of thin metal strips in a waist-high cardboard box has value, allegedly, even though they look like film that has been unspooled and tossed carelessly in a pile.
But Bernhard Markowis sees money here. You just have to look closely, he says, reaching into the pile and pulling out a handful.
"There's a lot of copper in here," he says, showing it to a visitor. "But you can see these small silver-colored bits." With his index finger he points to small silver splotches, no bigger than the head of a pin.
For 30 years, Markowis has recycled precious metals for Ami Doduco, and for those three decades, he has watched how the manufacturing industry continually puts him and his company to the test.
While silver is found in a variety of industrial and consumer products - refrigerators, ointments and computer keyboards - the concentrations are often so low that it isn't worth the time and effort required to recover the metal. Silver recovery is an expensive process.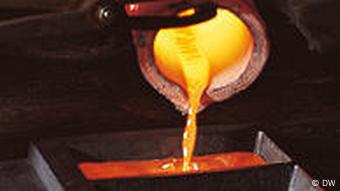 Material is melted to determine its metal composition
In Doduco's recycling area, large furnaces give the place the look of a steel mill. Up to 700 kilos of metal strips can be fed into the furnaces, which are heated to temperatures reaching 1,000 degrees Celsius.
The resulting molten metal is then taken to the laboratory, where it is analyzed for precious elements and copper, and their weights are determined. It is on this basis that Doduco charges its clients, who can also choose to take their metal to an independent lab for analysis, if they want.
Dirty laundry
After the analysis is complete the real recovery work begins. Robert Sorber, the product manger for silver powder at Doduco, uses a burn-off method or chemical and electrolytic processes to recover the precious metal.
The more the workers processes the worker have to employ to separate the elements, the more expensive it becomes for clients.
Sorber compares it to a laundry, where people pay money to get their clothes back clean. "With us, they get their precious metals back, after they've paid for the cleaning," he said.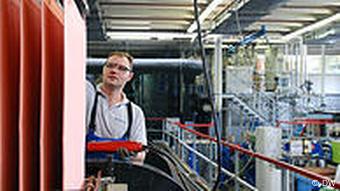 Copper is filtered out of metal plates through an electrolytic process
Doduco has electrical component production sites in Spain, Mexico and China, but all precious-metal recovery work is done in Germany. Its foreign plants send all of their scrap to the headquarters in Pforzheim in southwestern Germany, with one important exception: China.
China has long recognized the potential of scrap as an important source of raw materials and does not allow its export. It stores its scrap for later recycling.
In the past, Doduco would only accept scrap that had a silver content of at least five percent, although today, one percent is enough for Markowis to fire up his furnaces and start the recovery process.
A global leader
In one rectangular basin filled with a bluish liquid, metal plates have been positioned at regular distances from each other and an electric current passes through them. At their edges, silver crystals are growing.
"When women see this, they usually get pretty excited," said Markowis, looking at his visitor's face for a second to confirm his observation before continuing.
The plates are lifted out of the liquid once every 20 minutes so the crystals fall off and can be taken out. If the plates are left alone too long, the crystals would grow until they reached the neighboring plate, which would result in a short circuit.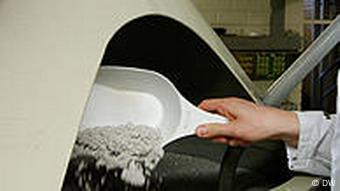 Robert Sorber inspects a container with recovered silver worth about 550,000 euros
Doduco recycles about 400 tons of silver per year. Its biggest competitor, the Allgemeine Gold- und Silberscheideanstalt, also based in Pforzheim, processes about the same amount. If Doduco were a country, it would be the world's 13th largest silver producer, according to Armin Nittel, head of the company's precious-metals recovery unit.
If all German recovery companies were put together, they would jump to fifth place.
Nittel thinks there is still room to grow. He says 60 percent of used silver ends up in garbage dumps. He wants to lower that number.
A kilo for a ton
The high price of silver right now is helping Nittel do that. Over the past five years, silver has risen from just over $8.00 per ounce to over $25.00. At the same time, the price increase makes his job harder as well. Manufacturers are continually looking for new ways to use less silver in their products than they do now.
Despite that, the silver content of scrap is still higher than in ore, Nittel says. To recover two to three grams of gold or silver, it is necessary to mine about one ton of rock, while one kilo of scrap will yield the same result.
About one-fifth of silver comes from some kind of recovery process; with gold, the percentage is even higher.
"Recycling is an important factor in ensuring that industry has the amount of precious metals it needs," Nittel said.
Author: Jutta Wasserrab (jam)
Editor: Sam Edmonds