No milk, no ice-cream. In mid-summer, that's the simple equation for a Venezuelan ice-cream parlor in times of an economic crisis. It's no help that he has an entry in the Guiness Book of Records for offering 863 different flavors that attract tourists from all over the world - according to the proprietor's Facebook page, the store will be closed during the high season due to lack of milk.
The "Heladeria Coromoto," based in the Venezuelan town of Mérida, is just one of many. It highlights a problem that Venezuela's population often has to grapple with. Be it toilet paper, butter, or soap - some staple product or other is always notably absent from the shelves of the local supermarket.
Ninety-six percent of Venezuela's revenues are generated by crude oil. The proceeds are used to import almost all other products. But oil prices have reached their lowest level since May 2009: one barrel of Brent crude now costs $57.33 (48 euros), while a Venezuelan barrel has fallen below the $50-level. Analysts are talking of an impending default: "The situation has not been this bad for a long time," said Nikolaus Werz, professor of political science at Rostock University.
'US is out to destroy us'
Venezuela's president Nicolas Maduro mainly blames the "American empire" for the price drop. In a televised New Year's address, the president argued that the US were flooding the market with cheap shale oil, putting pressure on the commodity price: "The [oil] war has an objective: to destroy Russia. It's a strategically planned war ... also aimed at Venezuela. [The US] is seeking to turn our country into a colony, to destroy our independence and our revolution with the aid of an economic collapse."
Maduro did not mention that, thanks to state subsidies, Venezuelans only have to pay two cents per liter of gasoline. And he did not say that the country's inflation rate has risen to one of the highest worldwide because the government keeps printing more money to pay foreign debts.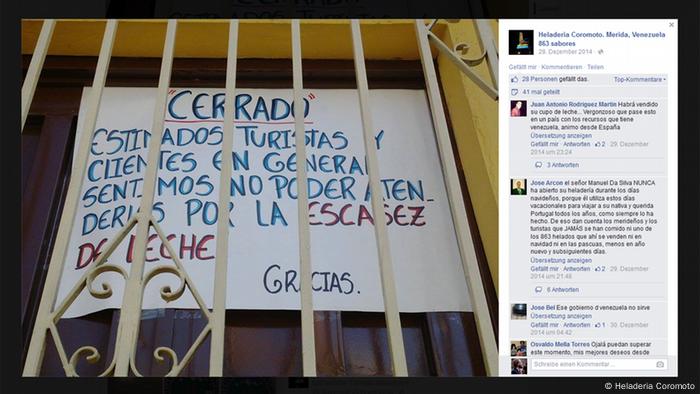 "No milk today" - the Heladeria Coromoto is closed
"Maduro's speech is an attempt at creating political enemies to explain the economic crisis," said Victor Mijares, Venezuelan political analyst at Simon Bolivar University in Caracas. "It is a strategy aimed at protecting himself."
China's growing influence
Consequently, the president is not looking close to home for a solution to the severe economic crisis affecting his country - instead, he travels to China, one of Venezuela's main trading partners. "It is a very important journey," affirmed Maduro.
His Economy Minister Marcos Torres had already visited the "sister", as Maduro always calls China, in December 2014. But to get new loans on top of the $50 billion that have already been granted since 2007, it appears the head of state has to travel to the Far East himself.
Experts believe that - despite Venezuela's precarious situation - China will continue lending, although the specific terms and conditions are not known. It is more than likely, however, that China's influence in Venezuela will continue to grow: "This approach is similar to China's strategy in Africa, and it definitely uses it to its advantage," said Mijares. "China's economic influence will lead to political influence in Venezuela."
Fresh funds would provide Maduro with new room for maneuver, according to Mijares: "I think that Venezuela is completely relying on an increase in public debt, hoping to be able to export more oil to China and less to the US." The United States is still currently the main buyer of Venezuelan oil.
Mijares does not see any intention to implement much-needed reforms: "The money is going to be the life-belt for Maduro's government, enabling it to remain in power and continue its current policies."
Fresh protests
Numerous experts, however, slam Maduro's course. One of them is Luis Vicente Léon, president of the renowned Venezualan opinion research center "Dataánalisis": "Evading a problem instead of tackling it makes the solution, which at some point has to be applied anyway, even more expensive," Léon wrote on Twitter, prompting approval from his numerous followers.
His institute observed in December 2014 that Maduro is now only supported by 24.5 percent of the population - an all-time low. Only 1.9 percent of those polled considered Maduro's leadership qualities "very good."
In view of this situation, Werz sees a growing danger of social protests. This assessment is shared by others. Without an increase in oil prices, social unrest in numerous oil-producing countries are a certainty, British daily the Independent wrote, before predicting "2015 will not be a dull year."