In a large room at the National Results Operations Center in Pretoria, journalists, elections observers and representatives of up to 29 South African political parties are glued to a large screen. This is where the process of vote counting is being transmitted live.
With over half of the ballots counted, the ruling African National Congress party (ANC) was leading, followed by the main opposition, the Democratic Alliance party.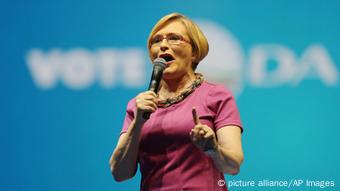 Democratic Alliance's leader Helen Zille is counting on an upset
The third in line was the Economic Freedom Fighters party led by firebrand former ANC youth leader Julius Malema.

Pansy Tlakula, the chairperson of the Independent Electoral Commission (IEC) said in a press briefing on Thursday (08.05.2014), she is pleased with how the vote went and how the counting was progressing. "While a picture of trends is beginning to emerge, it is still far too early to make any meaningful predictions of the final outcome," Tlakula said. Speaking about irregularities reported on a ballot box containing special votes which was found alongside a road by the police, Tlakula said that they are investigating that incident as well others which have been reported. "Overall however, I think we can all agree that the process is going extremely well and we can be proud once again of our nation and our democracy."

Time of reckoning for parties

Party representatives have been holding their breath, hoping that they will be getting the votes they predicted during their political campaigns. EFF's spokesperson Mbuyisenyi Ndlozi told DW he is still confident of getting more than 10 percent of the total votes cast. "it's too early, all of us got to allow the process. We must not get overwhelmed. We got to allow it to ferment," Ndlozi said, adding that many surprises are still going to happen on the screen as the results kept trickling in.
Hellen Zille, the leader of the Democratic Alliance, South Africa's main opposition party has also expressed satisfaction with the voting process.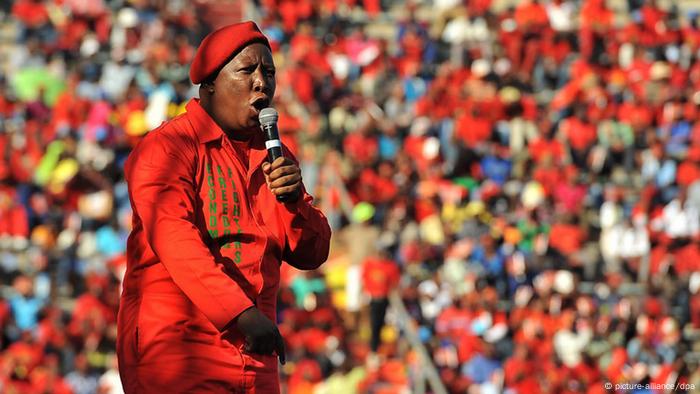 EFF presidential aspirant Julius Malema is expected to bite a chunk off ANC's votes
She said she was optimistic of getting 23 percent of the vote. "The big tragedy in elections is that people waste so many votes on parties that don't give representation," Zille said. "There are scores of parties up there with lots of votes between them who won't get a single seat."

According to Zille, the DA could have more seats and make a big difference if all those scattered votes would be consolidated to her party. Some reports had suggested that Zille was considering a coalition with the ANC in Gauteng Province. Speaking to DW about the matter, Zille dismissed the claims saying she would never get into a coalition with any party if she could be a party of her own.
Asked about a coalition with the DA, Gwede Mantashe, the Secretary General of the ANC said his party was doing well in Gauteng and that they didn't need a coalition with any party. "We are doing well now we have started well. We must still improve in some of the provinces," Mantashe said. "Leave those who said we are going to lose this and that, they say that all the time."

Satisfactory electoral process

Despite some hiccups, local and international observers have applauded South Africa for holding a well organized and a peaceful election.
Nana Addo Akufo, the chairman of the Commonwealth Election Observer Mission told DW South Africa should be taken as an example not only for the continent but also for the Commonwealth. "The whole process is very encouraging for those of us who are committed to a democratic Africa," Addo-Akufo said. "So when we see a process like this which seems to have been a commendable process taking place in South Africa, we see there is a tremendous boost to the spread of democracy in the rest of the continent," the Ghanaian politician said.

More than 70 percent of the 25 million registered voters went to cast their ballots in 22,263 voting districts.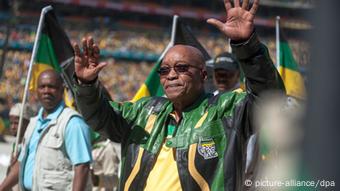 President Jacob Zuma is all but certain to win the election
According to the Independent Electoral Commission, the last person to vote was in the early hours of Thursday morning at the largest voting district of Joubert park in Johannesburg.
Most of the ANC supporters who chose to remain at home said they found nothing wrong with the party's principals but that some leaders have spoilt the name of the ANC. Thandeka Sibanda, 29, is one of them. "There is a lot of confusion in the party. I didn't want to spoil my vote, I didn't want to vote for another party so I stayed at home. May be in five years things will come again for the ANC," Sibanda said.
Results are not expected until the weekend. If the ANC wins as is expected, incumbent President Jacob Zuma will get a second five year term to lead the country.