For a year and a half, Beate Zschäpe has been sitting in her cell. Since her arrest on November 8, 2011, the accused right-wing terrorist has remained silent with regard to the accusations made against her.
Four days prior to her arrest, her alleged accomplices Uwe Mundlos and Uwe Böhnhardt committed suicide. The police were on their heels, and they apparently saw no escape. The two neo-Nazis, who together with Zschäpe had dropped off police radar in 1998, are accused of killing nine individuals with foreign backgrounds in Germany as well as a German police officer.
Under Range's supervision, the homes of four other NSU "supporters" - each now on trial - were searched
Last December, Germany's Attorney General Harald Range brought charges against Zschäpe, the single living member of the National Socialist Underground (NSU) trio.
Beyond the racially-motivated murders, she is accused of numerous bomb attacks, bank robberies, arson and membership in a terrorist organization.
Range told the German magazine Der Spiegel that he is convinced that "[Zschäpe]was not just a helper or even a mere companion, but acted on equal terms."
Legal challenges
Zschäpe's lawyers see things differently, of course. According to media reports, the lawyers will defend Zschäpe against the charges and claim instead that she was merely an accomplice. Under section 129a of Germany's criminal code, Zschäpe is charged with having formed a terrorist organization.
That charge, however, presupposes that the NSU organization was comprised of at least three people. Since Zschäpe's lawyers are contesting their client's role to begin with, they see no grounds for charging her as a founder of the group.
Range disagrees. "The NSU, in our opinion, was a group comprised of three members who relied on a few helpers and supporters."

Calling the witnesses
Range's certainty is the result of a year of intense investigation, something he described as a "Herculean task." Ten public prosecutors were involved and, at times, more than 400 civil servants at the Federal Criminal Police Office (BKA). Approximately 1,200 witnesses are said to have been questioned and a further 6,800 pieces of evidence collected.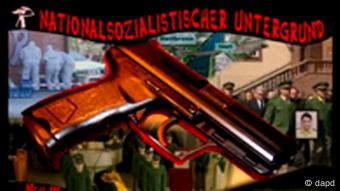 The NSU's DVD involved The Pink Panther cartoon character
Most of the evidence, Range says, comes from the ruins of the house in Zwickau, where the trio lived inconspicuously for many years. With the help of an explosive device, Zschäpe demolished the home before turning herself in to the police. In the rubble, investigators found an NSU video in which the alleged murderers brag morbidly about their deeds.
Zschäpe, who was held in Cologne's Ossendorf prison until mid-March, when she was moved to Munich's Stadelheim prison, can be thankful for the relatively lenient conditions she's received thus far. Since January, her three lawyers - Wolfgang Heer from Cologne, Wolfgang Stahl from Koblenz and Anja Sturm from Berlin - have been able to speak to their client without being separated from her by a pane of glass. Letters sent between Zschäpe and her lawyers are also no longer being screened.
The reasoning, the Munich court declared, is that with the death of Zschäpe's accomplices Mundlos and Böhnhardt and the attorney general's investigations, the right-wing NSU organization is close to being "dissolved."
As a result, there is no reason to fear that Zschäpe would "work on the group's behalf from prison."