In the two-page letter, which is phrased as an official announcement, the Berlin branch of the National Democratic Party, or NPD, called on various politicians to leave Germany. It presents a five-stage plan setting out "the details of [their] return home".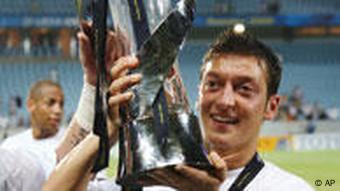 Soccer star Mesut Özil was targeted by the NPD
In an obvious re-hashing of Nazi Germany's anti-Jewish laws of the 1930s, the plan details how people of immigrant background would be phased out of German life. According to news magazine Focus, the steps include withdrawing the right to social welfare and the right to own real estate on German soil. In the meantime, the letter suggests, immigrants should "already start" looking for work and shelter in their "native" countries.
The letter is signed by the "commissioner for the repatriation of foreigners." But it also makes clear that it is written by Joerg Haehnel, chairman of the Berlin NPD. State prosecutors are now exploring the possibility of prosecuting Haehnel for incitement.
Weary reaction
Green party politician Özcan Mutlu, who regularly receives far-right hate-mail both by e-mail and post, was unimpressed by the offensive letter: "They still don't understand that this country is our country too. The only immigrants who might be shocked by this letter are those that don't recognize it for what it is: a cheap campaign trick."
Spokesman for the Berlin senate, Richard Meng, called the letter obscene and digusting. "I can only advise them to throw it in the bin," he said.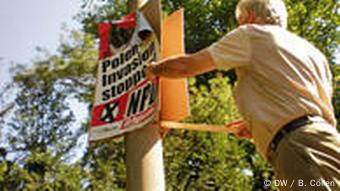 'Poland invasion' posters were removed after protests
Haehnel was last in trouble with state prosecutors in 2007 and 2008, when he was fined for anti-immigration comments and for declaring his approval of the murder of communist leaders Rosa Luxemburg and Karl Liebknecht in 1919.
Aggressive campaign
The letter is new evidence of the NPD's aggressive election campaign strategy, apparently intended to provoke German authorities. Last week, NPD press spokesman Klaus Beier called Mesut Özil, a German national football player of Turkish origin, a "fake German," causing outrage in the German Football Association and the threat of prosecution.
NPD campaign posters warning of a "Poland invasion" in the eastern state of Mecklenburg-Western Pomerania were removed overnight after a storm of protests.
bk/afp/dpa
Editor: Jennifer Abramsohn