Norwegian coast guard officials said on Tuesday that a Dutch cargo ship was in danger of capsizing in rough seas off the coast of the Nordic country.
Twelve crew members on the Eemslift Hendrika raised an alert in the North Sea late on Monday.
Norwegian officials fear the boat could capsize
The coast guard launched a helicopter operation to evacuate the vessel shortly afterwards.
Rescuers airlifted some crew members from the sea, while others were saved from the ship's deck. All 12 are now safe.
What happened?
The ship became unbalanced when its cargo shifted on Monday, causing it to list dangerously.
"The ship lost power on the main engine during the night and is drifting towards land," Hans Petter Mortensholm of the Norwegian Coastal Administration, told public broadcaster NRK.
"There is a risk it may capsize and sink," Mortensholm said, adding that this could cause a spill.
The 111-meter (366 feet) Netherlands-registered vessel is carrying smaller yachts, as well as 350 metric tons of heavy oil and 50 tons of diesel in its tanks.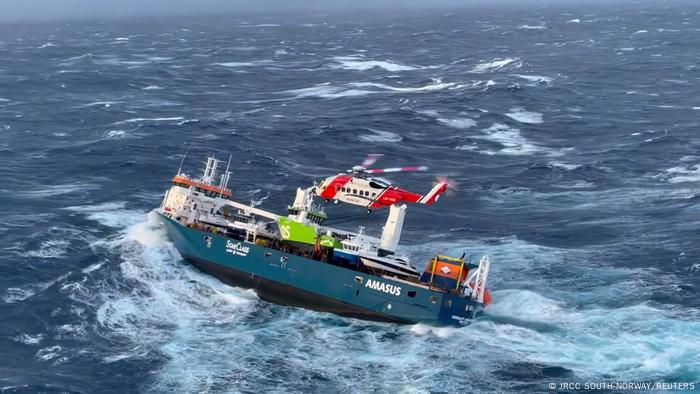 Cargo shifted and caused the boat to start listing, then subsequently its engines failed overnight
What efforts are being made to save the vessel?
Smit Salvage, a subsidiary of the Dutch marine services company Boskalis, said it was mobilizing a team to send to Norway in a bid to save the ship.
The firm plans to link the distressed vessel to a so-called anchor handling tug, a powerful ship built to move rigs for the oil industry.
"Getting her onto a tow line and to a calmer location, that is the goal," Smit Salvage spokesman Martijn Schuttevaer said.
The ship, which belongs to Amasus Shipping, was on its way from Bremerhaven in Germany to Kolvereid on the Norwegian coast.
According to the newspaper Verdens Gang, the boat was worth 66 million Norwegian kroner ($7.8 million, €7 million).
At its current speed, the vessel should drift to the coast in about a day and a half, the Norwegian coast guard estimates.
Europe's North Sea is a marginal sea of the Atlantic Ocean. It lies between the Norwegian archipelago of Spitsbergen in the north, Iceland in the west and the long west coast of Norway in the east.
jf/msh (AP, dpa, Reuters)