North Korean leader Kim Jong Un has given South Korean President Moon Jae-in a pair of white North Korean Pungsan dogs, the latest sign of improving ties between the two countries.
The canines, both about a year old, passed through the demilitarized zone (DMZ) and the village of Panmunjom into South Korea on Thursday, the South Korean presidential Blue House said in a statement on Sunday. They carried three kilograms of dog food to "help with their adaptation," it added.
The dogs, one male and one female, are named Songgang and Gomi. They will share the presidential palace with South Korea's First Dog, Tori, who became the first shelter dog to live at the presidential compound. Moon, a known animal lover, adopted the black mixed-breed dog in July last year.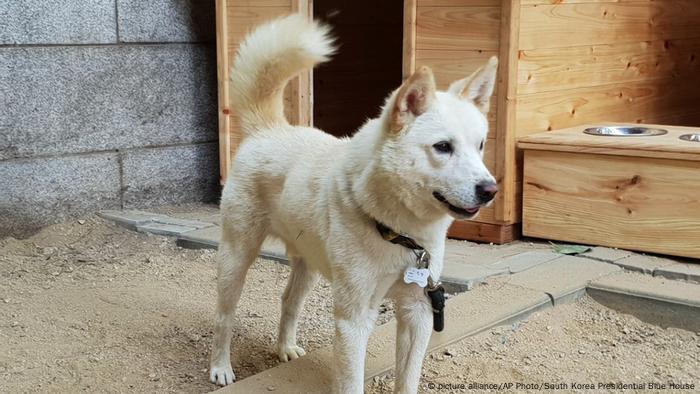 One of the Pungsan dogs is a male named Songgang.
Paws for peace
Kim proposed the idea of the gifts during Moon's visit to Pyongyang earlier this month, the statement said. The meeting in the North Korean capital, during which Kim agreed to shutter a missile-testing site and visit Seoul, was the third meeting between the two leaders this year.
Pungsan dogs, named after a North Korean county, are known for their loyalty and hunting skills. The breed is designated as a North Korean "natural heritage" animal.
It is not the first time a North Korean leader has sent a pair of Pungsan dogs to a South Korean leader.
In 2000, the late North Korean leader Kim Jong Il, father of Kim Jong Un, sent two Pungsan dogs to then-South Korean president Kim Dae-jung after a landmark summit in Pyongyang.
The dogs died of natural causes in 2013 after giving birth to 21 puppies.
ap/jm (AFP, Reuters, dpa)
Each evening at 1830 UTC, DW's editors send out a selection of the day's hard news and quality feature journalism. You can sign up to receive it directly here.