South Korea's Unification Ministry on Saturday said the North wanted to discuss its plan for an art performance before thrashing out further details of its participation at the Olympics.
The ministry said Pyongyang wanted to discuss the logistics of the show as a matter of priority before outlining plans for athletes and fans to attend the games in February.
"It appears that the North wants to discuss various practical matters related to an art troupe's visit as a priority," said a statement from the ministry.
"The government informed the North that our delegation will come to Panmunjom on January 15."
Read more: Do Korea talks put initiative back with Seoul and Pyongyang?
It is understood that both sides will send four art officials each as delegates to the discussions, to be held on Monday in the truce village of Panmunjom. Among those expected to attend from the North is Hyon Song-Wol, leader of the popular Moranbong band.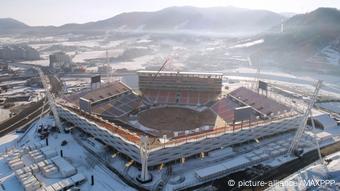 The games will take place some 80 kilometers (50 miles) from the border with the North
Moranbong is a state-approved, all-female group that performs pop-political anthems wearing high heels and tight skirts. Leader Kim Jong Un reportedly selects the members personally.
'Sunshine Policy' to shine again?
South Korea's Vice Sports Minister Roh Tae-Kang on Friday suggested the two countries might stage a joint march at the opening ceremony of the Winter Olympics, which are being held in South Korea's Pyeongchang county. He said the two ideas had been discussed at high-level talks the previous Tuesday.
Talks between the two Koreas are held alternately at the Tongil Pavilion on the North Korean side of the demilitarized zone in Panmunjom, and the Peace House on the southern side.
Read more: S. Korea's Moon Jae-in willing to meet Kim Jong Un 'under right conditions'
North and South Korea are still technically at war, having only signed a truce rather than a full-fledged peace treaty at the end of the 1950-53 Korean War.
The countries did, however, march together at the opening ceremonies of the 2000 Sydney Olympics, the 2004 Athens Games and the 2006 Winter Olympics in Turin. Those events came as South Korean presidents pursued a "Sunshine Policy" of engagement with the North.
Pyeongchang would be North Korea's first games in the South, with the North having boycotted the 1988 Summer Games in Seoul.
rc/sms (AFP, AP, Reuters)