North Korea issued an announcement directed at "all Koreans at home and abroad" on Thursday, calling for increased efforts towards "independent" unification, the state-run Korean Central News Agency (KCNA) said.
Pyongyang urged for Koreans "to improve North-South relations" after a meeting of the country's government and political parties, according to the statement, which was posted on media monitoring site KCNA Watch.
Read more: IOC: Two Koreas to march together at Winter Olympics opening ceremony
The announcement said Koreans should "promote contact, travel, cooperation between the North and South," but that it should do so without the help of other countries.
"Let us wage an energetic drive to defuse the acute military tension and create a peaceful climate on the Korean Peninsula!" the news agency said.
Although the statement did not provide details on why the meeting was held, it said the appeal was made in order to support North Korean leader Kim Jong Un's comments about unification that he made earlier this month.
Read more: South Korean officials visit North as Seoul rejects Olympics critique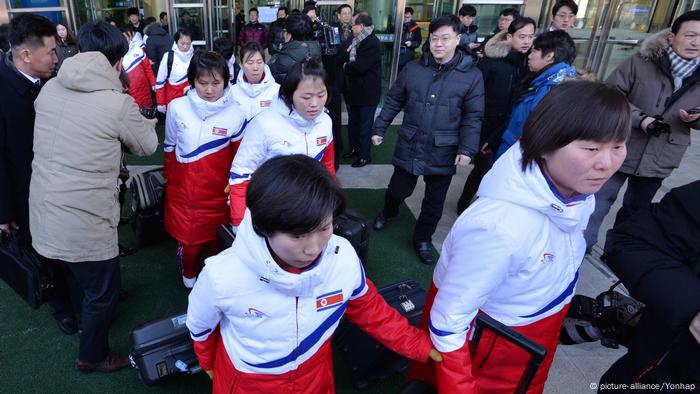 Members of North Korea's women's ice hockey team arrive for practice in South Korea
Skepticism over Olympics 'propaganda'
The announcement came as 12 North Korean ice hockey players arrived in the South to participate in their first practice as part of a joint women's Olympic team who will compete in next month's Winter Games in Pyeongchang.
The two Koreas agreed to have their athletes parade together under a unification flag during the opening ceremony.
Some South Korean politicians are skeptical of Pyongyang's participation in the Olympics, saying that Kim is using North Korea's involvement to further his agenda.
US Vice President Mike Pence said he will attempt to counter what he believes to be Kim's efforts to "hijack" the Olympics with propaganda when he attends the event next month.
Tensions have been high on the divided peninsula over North Korea's nuclear and missile tests, which have prompted a slew of international sanctions.
South Korean President Moon Jae-in's government has rejected criticism that the North is stealing the spotlight from the games, saying the Olympics will help defuse tensions.
rs/se (AP, AFP, Reuters)