A delegation of South Korean officials visited North Korea on Tuesday to check logistics for joint Olympics-linked events ahead of next month's Winter Games.
Tuesday's visit marks the first time Seoul officials have traveled to North Korea for nearly two years, according to South Korea's Yonhap news agency.
The group of 12 South Korean officials is expected to spend three days in the North. They will inspect venues for joint cultural events at the North's Diamond Mountain and a site at the Masik ski resort where non-Olympic skiers from both countries will practice together.
Read more: IOC: Two Koreas to march together at Winter Olympics opening ceremony
North Korea sent its own delegation to the South for a two-day visit that concluded on Monday and was headed by Hyon Song Wol, the leader of North Korea's popular Morangbong girl band. It was the first time officials from the North had visited the South in four years.
Another group of Pyongyang officials are due to visit this week to tour the Olympic main stadium in Pyeongchang.
Read more: 'Comfort women' dispute: Japan's Abe to snub South Korea's Olympics invite?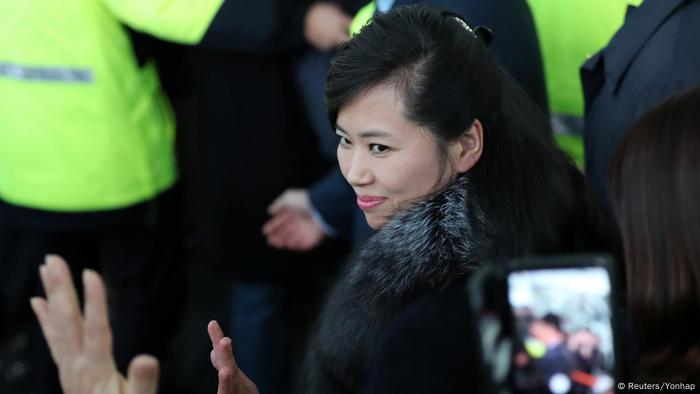 North Korean singer Hyon Song Wol's visit to the South sparked a media frenzy
Seoul fends off 'Pyongyang Olympics' critique
South Korean President Moon Jae-in's administration faced criticism at home over rapprochement efforts between the two countries ahead of the Pyeongchang Games, which will start on February 9.
Critics accuse Moon of making too many concessions to the North, for using athletes for political purposes and giving North Korean leader Kim Jong Un the spotlight.
"Just one month ago, acute tensions gripped the Korean peninsula, but the administration's efforts to tackle the crisis through dialogue has led to North Korea's participation in the Olympics," Blue House spokesman Park Soo-hyun said during a press conference on Tuesday.
"We can't understand putting an outdated tag of 'Pyongyang Olympics' to the Pyeongchang Olympics, which will be a 'Peace Olympics'," Park said.
Read more: Korean War allies consider further sanctions against North Korea
North Korea also condemned a group of conservative demonstrators who burned Kim's image during the Pyongyang delegation's visit to the South, calling them "traitors."
The two Koreas agreed to have their athletes parade together under a single flag during the opening ceremony and to have their athletes compete as one team in women's hockey.
The reconciliation efforts were sparked following Kim's New Year's announcement that he was willing to send an Olympic delegation.
Pyongyang is facing multiple layers of sanctions imposed over a series of nuclear and missile tests that it has carried out in violation of the UN Security Council.
rs/rt (AP, AFP, Reuters)