The Nord Stream consortium has completed the so-called "golden weld," connecting the 1,220-kilometer pipeline stretching under the Baltic Sea between Germany and Russia to the first of two major distribution lines in Germany.
The OPAL line is now ready to receive gas. The line runs southward from Greifswald, where the Nord Stream pipeline lands on the German coast, to Olbernhau near the Czech border.
"The pipeline is now ready for the next complex steps of bringing the pipeline on stream, which means we will be able to commission the first of the Nord Stream twin pipelines in the fourth quarter of 2011 as planned," said Georg Nowack, Nord Stream AG project manager for Germany, in a statement.
Diversification strategy
The second distribution line, called NEL, runs westward from Greifswald to Achim and is expected to be completed by the end of next year.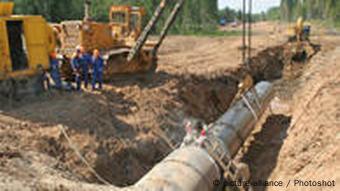 The OPAL link runs southward from the Baltic Sea to Olbernhau
Construction of Nord Stream began in April 2010. The 7.4-billion-euro ($1.7 billion) pipeline is part of a diversification strategy to deliver gas to Europe while avoiding Ukraine, which has been at odds with neighbor Russia over gas prices and transit tariffs.
The European Union imports about a quarter of its gas from Russia, with about 80 percent of that flowing through Ukraine to European consumers. The new pipleline is expected to carry more than 55 billion cubic meters of gas per year.
Most of the gas to be supplied to Nord Stream by Russian state-owned Gazprom will come from the Yuzhno-Russkoye oil and gas field, one of the largest fields in the world. The pipeline will also later carry additional gas from fields on the Yamal Peninsula, in Ob Taz bay and Shtokman.
Author: John Blau
Editor: Gerhard Schneibel